Police can take cell phone tower records without warrant - appeals court
Published time: 6 May, 2015 17:26
Edited time: 6 May, 2015 18:06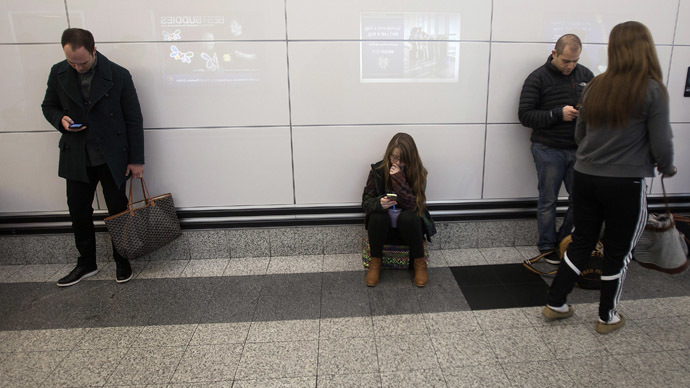 A warrant isn't required for police officers to ask telephone companies for customer records created by cell towers, an appeals court now says, reversing a previous ruling that had been originally hailed as a victory by privacy advocates.
On Tuesday, the 11th Circuit for the United States Court of Appeals issued a ruling concerning the law enforcement tactics used to indict Quartavious Davis of Florida in 2011 for a string of robberies in the Miami region.

When Davis first stood trial, prosecutors introduced call records obtained by MetroPCS, a cell service provider, which tied him to the scenes of several armed robberies he had been accused of participating in during a three-month span in 2010. A jury ultimately convicted Davis on all 16 counts, and he was subsequently sentenced to 162 years in prison.

Defense lawyers were quick to file an appeal. In 2014 they were told by a three-member panel of the 11th Circuit that the government had indeed violated Davis's Fourth Amendment rights by failing to obtain a warrant for the call data. Prosecutors had instead served MetroPCS with a mere court order that didn't require officials to claim probable cause, and the panel agreed to affirm the conviction but find fault with how the evidence was acquired. Government attorneys responded by asking the full 11-member appeals court to weigh in, and this week they do so by issuing a ruling that reverses the panel's previous finding.
READ MORE: Warrant required to obtain phone tracking data, court rules
According to the court's latest 9-2 vote, the acquisition of historical cell tower location information by means of a court order wasn't unconstitutional because Davis lacked any expectation of privacy with regards to those records. Rather, the court said that the call records that prosecutors used to put Davis near the crime scenes had been lawfully acquired because they were obtained pursuant to the Stored Communication Act, or SCA, which lets authorities request business records from third-parties if specific and articulable facts exist to show there are reasonable grounds to believe data being sought is "relevant and material to an ongoing criminal investigation."

"While this statutory standard is less than the probable cause standard for a search warrant, the government is still required to obtain a court order and present to a judge specific and articulable facts showing reasonable grounds to believe the records are relevant and material to an ongoing criminal investigation," the court added. In fact, they continue, the SCA "goes above and beyond the constitutional requirements regarding compulsory subpoena process."
En banc 11th Circuit rules historical cell-site records not protected by 4th Am under third-party doctrine: http://t.co/cB9Vew3XEC

— Orin Kerr (@OrinKerr) May 5, 2015

"To prevail on his Fourth Amendment claim, Davis must show both (1) that the application of the SCA to the facts of his case involved a 'search' within the meaning of the Fourth Amendment, and (2) that such search was unreasonable," Tuesday's ruling reads. "This Davis cannot do."

Rather, the appeals court said that the records in question were created for business purposes by MetroPCS and were not at any time under Davis' control, regardless of whether he approved of their existence.

"Davis can assert neither ownership nor possession of the third-party's business records he sought to suppress. Instead, those cell tower records were created by MetroPCS, stored on its own premises and subject to its control," the court ruled.
Damn third party doctrine!

— Hanni Fakhoury (@HanniFakhoury) May 5, 2015

"The records were obtained through a court order authorized by a federal statute, not by means of governmental trespass," the ruling continues. "MetroPCS, not the government, built and controlled the electronic mechanism [the cell towers] and collected its cell tower data for legitimate business purposes."

At the same time, though, the latest installment in the debate over how call data is collected may very well be the catalyst in getting the case to the Supreme Court. Justice Robin Rosenbaum concurred with the full court's opinion, but wrote in Tuesday's ruling that the third-party doctrine "warrants additional consideration and discussion" as it related to modern technology.

"The reach of the majority opinion is breathtaking," David Oscar Markus, Davis's attorney, told the Washington Post. "It means that the government can get anything stored by a third party — your Facebook posts, your Amazon purchases, your Internet search history, even the documents and pictures you store in the cloud, all without a warrant."

Judge Beverly Martin, writing on behalf of the appeals court's two dissenting votes, raised that question as well. Under a plain reading of the majority's rule, she said, Americans surrender "any privacy interest" whatsoever with regards to data given to third-parties.

"Nearly every website collects information about what we do when we visit," she wrote. "So now, under the majority's rule, the Fourth Amendment allows the government to know from YouTube.com what we watch, or Facebook.com what we post or whom we 'friend,' or Amazon.com what we buy, or Wikipedia.com what we research, or Match.com whom we date - all without a warrant."

Nathan Freed Wessler, a staff attorney with the American Civil Liberties Union's Speech, Privacy, and Technology Project, said in a statement: "Outdated legal doctrines from the analog age should not be mechanically extended to undermine our privacy rights in the voluminous digital records that come with modern life."

"We are pleased with the decision," Justice Department spokesman Peter Carr told the Washington Post. Given the recent emergence of similar cases in federal appeals courts as of late, however, the paper reported that it's likely the matter of how the SCA is used will end up before the Supreme Court before long.

"Davis and amici advance thoughtful arguments for changing the underlying and prevailing law," Justice Hull Tjoflat wrote on behalf of the 11th's circuit's majority ruling this week, "but these proposals should be directed to Congress and the state legislatures rather than to the federal courts."