N. Carolina teen sporting bulletproof vest reportedly shoots cop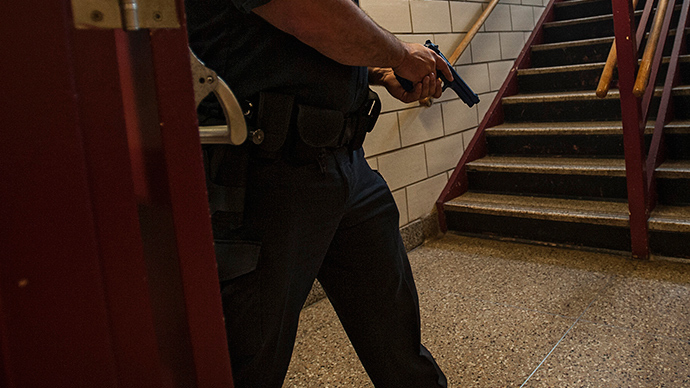 A North Carolina police officer was allegedly shot in the stomach by a teenager wearing a bulletproof vest, local media reported.
The incident occurred over the weekend in the town of Cornelius, North Carolina, about 20 miles north of Charlotte, when police responded to a domestic disturbance call concerning 16-year-old Greyson Ferrell, who was reportedly yelling at his family outside of the house
"He was punching at his sister's car window and then somebody else came to the house, he was trying to fight that person, and that person said they were going to call the police," neighbor John Roeder told local WBTV.
According to Roeder, police arrived at the scene without their emergency lights or sirens on, but nevertheless Ferrell "was kicking and screaming yelling at the police officers."
16-year-old wearing bulletproof vest shoots, injures NC officer http://t.co/ZKv7hO5DLppic.twitter.com/hRG8WlosyI

— FOX8 WGHP (@myfox8) May 3, 2015
In a statement released online, the Cornelius Police Department said that "shortly after arriving, officers came under fire from [Ferrell] and Lt. James Quattlebaum was struck in the abdomen area."
Another officer with Quattlebaum fired back, hitting Ferrell at least once, police said. The department added that Ferrell was wearing a bulletproof vest and was not seriously injured. He now faces multiple charges, including assault with a deadly weapon with intent to kill or inflict serious injury, attempted first degree murder, possession of marijuana and more, WSOC TV reported.
Quattlebaum was transported to a hospital after being shot, but he was "alert and conscious" and set to make a full recovery, Cornelius Police Chief Bence Hoyle told WBTV.
"Because the suspect was also shot by Cornelius officers, Cornelius Police has requested the Charlotte-Mecklenburg Police take over the investigation into this incident," police said in a statement. "To allow CMPD to fully investigate this matter independently, we will not release further information at this time."
You can share this story on social media: