Tensions at site of Baltimore protests after reports of gun fired in Baltimore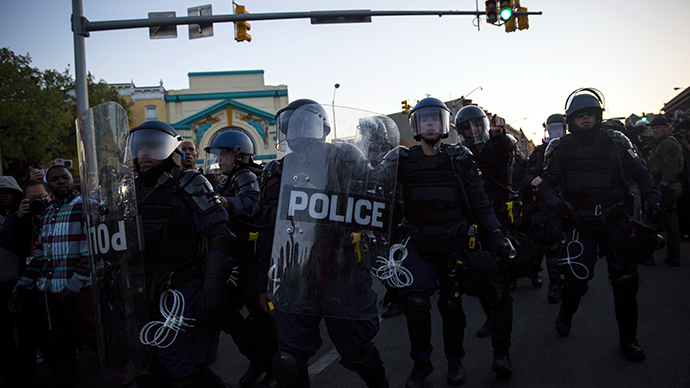 Tensions are high in the North West of Baltimore following a gun shot. Eyewitnesses say police fired at a man. Officers claim it was the man's gun that fired when he dropped it.
Reports surfaced at around 2:45 ET that a man was shot close to the intersection of Pennsylvania and North avenues near the epicenter of where protests have erupted in the days since the arrest and death last month of Freddie Gray, a young black man.
A commander with the Baltimore Police Department at the scene told a journalist with the Baltimore Sun that authorities were trying to arrest an armed man when that person's gun fell and went off.
BPD: Officers pursued suspect at Pa and North. .suspect's gun discharged. No one shot. Suspect asked for medic for other reasons

— Jayne Miller (@jemillerwbal) May 4, 2015
A photo posted by KANG (@raspy_rawls) on May 4, 2015 at 12:34pm PDT
At the same time, however, the BPD wrote on Twitter that "the reports of a man being shot at North and Pennsylvania Ave are NOT true."
"No one was injured," a Baltimore Police Dept. officer told CNN later.
"Nowhere on his body does he have a gunshot wound," said the officer, adding that police "never discharged any weapons."
In Baltimore, a gun may have fired accidentally in incident seen at first as a police shooting http://t.co/ikRre08E4Rpic.twitter.com/jf72RQILgP

— McClatchyDC (@McClatchyDC) May 4, 2015
The BPD's claims run contrary to those of eyewitnesses, including a producer for Fox News who said live on the air that a young black man who had been shot once and "didn't appear to be in good shape." The producer, Mike Tobin, added that a gun was on the scene after the victim was taken away "and it didn't look to be the officer's weapon." Fox has since retracted its claims of an officer-involved shooting.
RT's Manual Rapalo reported from the scene that authorities were quick to clear the scene by discharging pepper-spray as a crowd gathered. Fox captured paramedics rushing the man away and onto an ambulance, and photographers and onlookers were captured live on camera suffering from blasts of mace to the face.
You can share this story on social media: