Series of earthquakes shake California
Published time: 3 May, 2015 11:20
Edited time: 5 May, 2015 06:44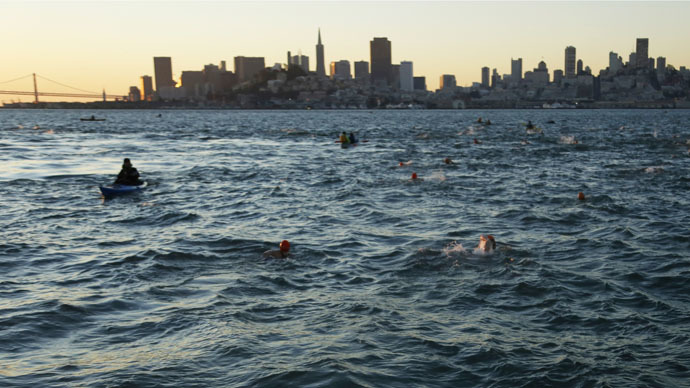 A magnitude 4.0 earthquake with a series of aftershocks has struck the San Francisco Bay Area, shortly after 2:00pm local time. It comes less than 12 hours after shakes were reported in the Los Angeles area.
No immediate damage or injuries were reported when the 4.0 earthquake struck at 2:13pm just outside of the city of Concord. The shake was preceded and followed by four smaller trembles, ranging from 1.6-2.7. The earthquakes struck at a depth of eight to nine miles.
4.0-magnitude earthquake rattles Calif. Bay Area http://t.co/FX6aaG7FqApic.twitter.com/pKHzurjA9Z

— Solomon Quansah (@solomonquansah) May 3, 2015
A 3.9-magnitude earthquake was recorded in the Los Angeles area early Sunday morning. According to the US Geological Survey the quake was shallow, residents across the basin say they were woken up by the tremor.
The shallow earthquake occurred just one mile from View Park-Windsor Hills, California, at 4:07 am on Sunday morning.
The quake, which struck at a depth of 5.6 miles, was classified by the USGS as "light". However, it was still felt over a wide area of the LA basin.
@shelbygrad nothing gentle about this quake 2miles south of downtown LA

— bunnie jatkowski (@jatkowski) May 3, 2015
It was the second earthquake in less than a month along the Newport-Inglewood fault. A magnitude-3.5 quake hit the same area on April 12.
The Los Angeles Fire Department briefly went into "earthquake mode." As its helicopters surveyed more than 470 square miles in the area and all 106 fire stations conducted safety checks, the alert was lifted.
Woke me and Dutch up. Now I can't sleep. https://t.co/xcQfQKaxTS

— Rachael Kahne (@rachaelcecelia) May 3, 2015
California is an active earthquake location, owing to its unsettling geographical position, with tectonic plate motions underneath.
Seismograph records the 3.9 quake we just experienced in LA http://t.co/Gy9JM3fi1Gpic.twitter.com/fVAYVSQMlZ

— Jon Passantino (@passantino) May 3, 2015
The current seismic period is, however, a relatively calm one. With not many shocks reaching even magnitude 3 in recent months, because "far less" energy is being released in earthquakes than it is being stored from tectonic plate motions.
I just happened to be wide awake for that one. Went on for quite a while. #LAquake

— SinD Vargas (@SinD) May 3, 2015
However, this "won't last forever", according to University of Southern California earth sciences professor James Dolan.

"At some point, we will need to start releasing all of this pent-up energy stored in the rocks in a series of large earthquakes," Dolan said.
The earthquake could spark a "super cycle," meaning "a flurry of other Big Ones, as stresses related to the original San Andreas fault earthquake are redistributed on other faults throughout Southern California," he said in late April.
Very scared after the quake #la#earthquake

— Davina Adjani (@DavinaAdjani) May 3, 2015