Where is #JosephKent? Prominent Ferguson activist snatched by police live on TV in Baltimore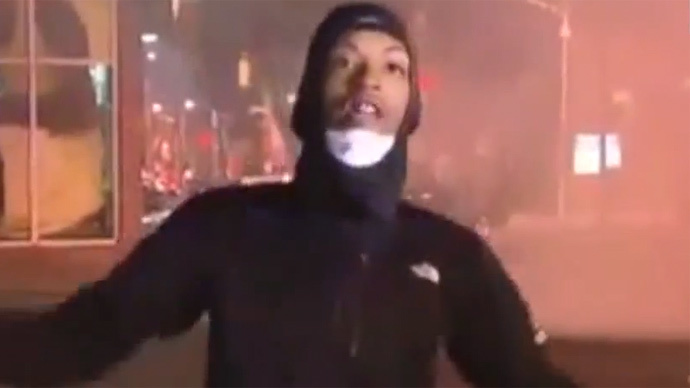 A community organizer who led Ferguson solidarity protests was seized by riot police in full view of the media Tuesday evening, after Baltimore imposed a nightly curfew. His seizure caused much criticism in social media.
After a night of uncertainty as to what happened, Joseph Kent was confirmed to be alive and in police custody.
Baltimore protester's creepy arrest on live TV prompts concerns of 'blackbag kidnapping' http://t.co/WcQlAGCGdY#JosephKent

— anas canon (@anascanon) April 29, 2015
Read More: Baltimore riot: Police vs protesters LIVE UPDATES
According to the media present at the intersection of North and Pennsylvania Avenues in West Baltimore, the focal point of Monday's riot and Tuesday's peaceful gathering, Kent had been working to keep the assembly calm and urging the crowd to disperse. He appeared to have been successful, as television footage showed him alone, standing off against a line of riot police.
Around 10:38pm local time, a National Guard vehicle appeared behind Kent, and several officers surged forward, seizing him, according to the footage. The vehicle shielded them from the cameras, and by the time it had passed through the police line, Kent was nowhere to be seen.
they kidnapped #JosephKent on live television https://t.co/LY2CHwgmpE

— ANCIENT (@FREETRAVISB) April 29, 2015
The whole thing was captured by a CNN crew, standing at the intersection filming the police line. The dramatic arrest led many observers to wonder if Kent had been "disappeared." Twitter lit up with the hashtag #JosephKent, his seizure was described as "black-bagging," and observers noted he was never read his rights.
RT @AngryBlackLady: if #JosephKent was out after curfew, they didn't *arrest* him. No Miranda. They disappeared him. https://t.co/N49Awxw1T1

— Talib Kweli Greene (@TalibKweli) April 29, 2015
Watching #JosephKent get kidnapped by @BaltimorePolice is the scariest video I've seen in 2015. Orwellian doesn't begin to cover it.

— Gersande La Flèche (@gersandelf) April 29, 2015
Early Wednesday morning, attorney Stephen Beatty confirmed that Kent was alive and awaiting processing at Baltimore's Central Booking and Intake Facility (CBIF).
"As a service to the community I can confirm that Mr. Kent is at CBIF awaiting processing," Beatty tweeted. "Report is he is ok and safe. Due to large numbers of arrests, processing is slow. He is not even in system yet. More will be known in about 5 hours... But everyone breathe."
1/2 Re: #JosephKent As a service to the community I can confirm that Mr. Kent is at CBIF awaiting processing. Report is he is ok and safe.

— The Big Acquittal (@BeattyLaw) April 29, 2015
"I am hoping that when [Kent] sees the commissioner, he will just be released on [recognizance]" Beatty added later. Under this procedure, the suspect is released without bail, after promising in writing to appear in court for upcoming proceedings.
Shortly after noon local time, Beatty tweeted he was going to CBIF personally. Two hours later, he confirmed meeting with Kent, whom he described as "healthy and positive," and confirmed being retained as his attorney.
READ MORE: Baltimore enforces night-time curfew
A student at the historically black Morgan State University in Baltimore, Kent rose to prominence as a community organizer during last fall's Baltimore protests in solidarity with Ferguson, Missouri. Speaking to Baltimore City Paper later, civil rights organizer Reverend Heber Brown III described Kent as "Martin Luther King with tattoos and gold fronts."
According to the Baltimore police, 35 people were arrested for violating the 10:00pm - 5:00am curfew imposed under the state of emergency rules in Baltimore. The curfew began on Tuesday night, and is scheduled to last a week, unless extended.
Approximately 250 people have been arrested since Monday's clashes between what appeared to be high-school students and police, which turned into riots in West Baltimore on Monday evening. The state of emergency suspended the regulation requiring the police to present those arrested before the courts within 24 hours, extending that deadline to 47 hours instead. Reports from attorneys flocking to the CBIF indicate that bail for first-time offenders has been set to $10,000, cash.
They are setting 10k CASH bail for first time offenders. #Baltimore

— Mirriam Seddiq (@mirriam71) April 29, 2015
Several businesses have been vandalized and looted, and at least five buildings and 144 vehicles burned down, as riots shook Baltimore on Monday night. By the following day, thousands of law enforcement officers from around Maryland and the neighboring states were deployed to Baltimore, along with over 1000 Maryland National Guard, patrolling the city in armored vehicles.
Tuesday's gatherings were different, with prayer circles, street parties, music and dancing. On a couple of occasions objects were thrown at police, but community organizers – including Kent and the self-identified members of Crips and Bloods street gangs – kept the gatherings peaceful.
You can share this story on social media: