​iPad glitch affects dozens of American Airlines flights
Published time: 29 Apr, 2015 16:49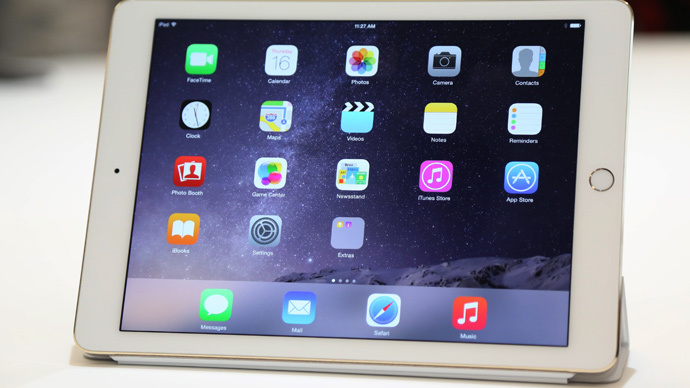 An issue with the software on Apple iPads used by American Airlines pilots affected dozens of flights on Tuesday evening, representatives for the airline say.
"Some flights are experiencing an issue with a software application on pilot iPads," the Texas-based airline explained on Twitter late on Tuesday after passengers began complaining about delays.
"In some cases, the flight has had to return to the gate to access a Wi-Fi connection to fix the issue. We apologize for the inconvenience to our customers. We are working to have them on the way to their destination as soon as possible," Andrea Huguely, a spokesperson for American Airlines, later clarified to the Verge.
The airline didn't give specific numbers, but another spokesperson told the Verge that "a few dozen flights" had been affected by the issue. According to updates posted to Twitter by a husband and wife who had planned to fly from Dallas to Austin, they heard that American's entire fleet of Boeing 737s had been grounded over the issue.
@bjacaruso Some flights are experiencing an issue with a software application on pilot iPads. We'll have info about your departure soon.

— American Airlines (@AmericanAir) April 29, 2015
"The pilot came on and said that his first mate's iPad powered down unexpectedly, and his had too, and that the entire 737 fleet on American had experienced the same behavior," Philip McRell, another passenger onboard the inner-Texas flight, told Quartz. "It seemed unprecedented and very unfamiliar to the pilots."
American first received approval by the United States Federal Aviation Administration in 2011 to use iPads in the cockpit, and a year later its use was expanded from gate-to-gate. The tablets run specialized software used with American's Electronic Flight Bag program, which the airline said replaces heavy kits traditionally carried by pilots and thousands upon thousands of manual pages and navigational charts. American said that ditching the 35-pound kitbag from each flight would save around $1.2 million on fuel annually and, according to the company's vice president of flight, "modernize our processes and best meet the needs of our people."
Here's what the iPad looks like on the flight deck of an @AmericanAir 737-800 pic.twitter.com/2pQolEW0gw

— Jason Rabinowitz (@AirlineFlyer) April 29, 2015
"With this approval from the FAA, we will be able to use iPad to fully realize the benefits of our Electronic Flight Bag program, including improving the work environment for our pilots, reducing our dependency on paper products and increasing fuel efficiency on our planes. We are equipping our people with the best resources and this will allow our pilots to fly more efficiently," Captain John Hale, American's flight VP, said previously.
In 2013, American became the first major commercial airline to fully utilize tablets in all cockpits during all phases of flight and by then had deployed more than 8,000 iPads among pilots.
American's Electronic Flight Bag program is powered by mobile software and data made by Jeppesen, a unit of Boeing Flight Services which offers navigational and data services to commercial and military clients. Jeppesen said in 2013 that it had received FAA authorization to have its Mobile TC app for iPad used on commercial flights "as an alternative to paper aeronautical charts," and information about the application on Apple's iTunes store reveals an update was issued by the software makers three days before this week's American incident. Jeppesen hadn't responded to requests for comment made by the Register as of Wednesday.