Storm blows freight train off New Orleans bridge (PHOTO, VIDEO)
Published time: 27 Apr, 2015 21:14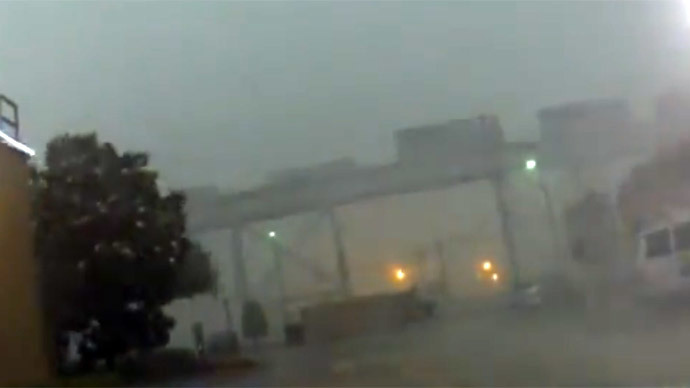 Severe storms in southern Louisiana have blown a train off a bridge in New Orleans. Tens of thousands are without power in the area, while thousands of travelers are stranded at the Louis Armstrong airport.
A train belonging to the Union Pacific Railroad toppled off the Huey P. Long Bridge, south of New Orleans on Monday. Weather reports in the area indicated heavy rain and wind gusts of over 70 mph, with tornado warning conditions.
Watch: Train cars fall from bridge during intense storm in New Orleans. http://t.co/TsESKRb8AH

— WGN Radio 720 (@WGNRadio) April 27, 2015
"Due to the severe weather this morning, four Union Pacific Railroad railcars derailed and dropped off the east bank approach to the Huey P. Long Bridge," Jeff Davis, New Orleans Public Belt general manager said in a statement. "The rail cars were empty and did not contain any hazardous materials. No leaks and no injuries are reported at this time."
According to the local TV station WGNO, which captured the crash on camera, "at least 11 cars" were swept off the bridge.
Train cars down at Huey Long Bridge, via Roger Fernandez. @wdsu@MargaretOrr@NWSNewOrleanspic.twitter.com/XELddmWydc

— Scott Walker (@ScottWalker6) April 27, 2015
Jefferson Parish Councilman Chris Roberts said the cleanup would take several days, as recovering the cars would require a heavy crane.
Viewer sent me this up close photos of #trainwreck#nolapic.twitter.com/pOlWf7B9cu

— Jacki Jing (@JackiJing) April 27, 2015
Photos from the scene showed smashed-up freight cars. The bridge does not appear to have been damaged.
The storm that hit southern Louisiana Monday morning left 168,000 residents without power, mostly in the New Orleans and Baton Rouge areas. Power outages also affected the Louis Armstrong International Airport, stranding thousands of travelers in town for the New Orleans Jazz & Heritage Festival.
NOLA airport totally out of power! Chilling out in the dark w/a few thousand of our closest friends... #wow#GoNOLApic.twitter.com/0LnXQJiphz

— Doug Haefele (@DPWDoug) April 27, 2015
Power was off in the main terminal, with the airfield operating on emergency power, an airport spokeswoman told the Times-Picayune. Entergy Corp. repair crews were reporedly working to restore service.
Crews are working to restore power to @NO_Airport terminal. The airfield is operational but some flights have been diverted or cancelled

— NOLA Ready (@nolaready) April 27, 2015