Black Lives Matter protesters take over Forever 21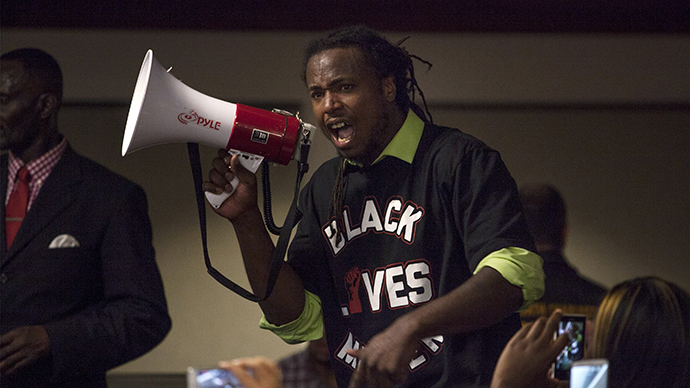 A group of anonymous multi-racial Black Lives Matter protesters took over a Forever 21 store on Union Square, New York, on Sunday to raise awareness for the number of black kids who didn't make it past the age of 21 because they were killed by police.
The demonstrators replaced mannequins with Black Lives Matter sweatshirts and spread one of their banners across the window of the store.
LOVE. https://t.co/uu1pNKV4wT Art collective dressed as Forver21 employees dress models in store window in support of the Never21 project.

— Andy Tider (@TiderA) April 27, 2015
The stunt was to raise awareness for the growing number of black youngsters killed by the police in the US, such as 18-year-old Michael Brown from Ferguson and 17-year old Trayvon Martin from Florida, as well as Oscar Grant, who was killed by police in 2009 and was the subject of the 2013 film Fruitvale Station.
Direct action works! #BlackLivesMatter Protesters Stock @Forever21 With 'Never 21' Shirts: http://t.co/eeogKmubfUpic.twitter.com/xjXoiyS442

— Ⓐ #GrumpyCuntSec Ⓐ (@brazenqueer) April 27, 2015
Never 21 released a statement saying that their stunt was not an attack on the chain store Forever 21 and offered the retail conglomerate the chance to support the Black Lives Matter movement.
"The phrase #Never21 serves as a reminder of all of the young black lives that have been lost to law enforcement officials and self-proclaimed 'vigilantes'. These youth were never given the chance to see age 21, or any age thereafter, so we respond by reminding the public of the battle that we are still actively fighting. We care about the lives of Black men. We care about the lives of Black women. We care about the lives of Black Children," the statement read.
For those killed whom never made it to see age 21, activists took over #forever21 | @KeeganNYC <-- Agitate. pic.twitter.com/FYbCUjEo0u

— Zero Dowry (@GrungyBerns) April 26, 2015
MORE:
You can share this story on social media: