Armenian genocide: 130K march in LA to mark 100th anniversary (PHOTO, VIDEO)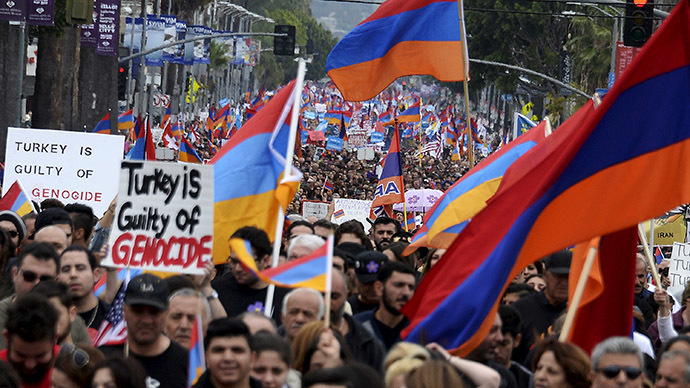 Tens of thousands of people took to the streets of Los Angeles on Friday, marching through the city and onto the Turkish consulate. They were demanding that the killing of around 1.5 million Armenians by Ottoman Turks in 1915 be recognized as genocide.
READ MORE: Millions worldwide mark 100th anniversary of mass slaughter of Armenians (PHOTO, VIDEO)
More than 130,000 took part in the rally to mark the centennial of the massacre, according to estimates from the Los Angeles Police Department. Demonstrators started the march from the Little Armenia neighborhood and proceeded to walk six miles to the Turkish consulate on Wilshire Boulevard.
Along the way, people shouted slogans such as "Shame on Turkey," and "We want justice."
Turkey has so far refused to acknowledge the slaughter of around 1.5 million Armenian Christians as genocide. Forty-three states in America have accepted the event as such, but the federal government has not.
President Barack Obama promised to recognize the genocide prior to his election in 2008, but has since avoided the term to placate key NATO ally Turkey.
In remembering the 100th anniversary, President Obama used words such as "massacre" and "horrific violence," but stopped short of calling it "genocide."
Many marchers have reached Turkish consulate on Wilshire Blvd. @Sky5Tim is overhead. Watch: http://t.co/RS504NKVaupic.twitter.com/r084G0Xnig

— KTLA (@KTLA) April 24, 2015
At least one person was arrested during the LA rally, when protesters reportedly got in a scuffle.
While the vast majority of the marchers were commemorating the Armenians who were killed, there was a small contingent supporting the Turkish viewpoint. One protester, Kutsal Kocer, told local KTLA that her group had eggs and bottles thrown at them.
"It's a shame that these people are violent and they are turning this into a Christian/Muslim war," Kocer said.
Over 100.000 people showed up at the Armenian Genocide march in Los Angeles, California! ❤️ #ArmenianGenocidepic.twitter.com/NHIUpLyNbZ

— #ArmenianGenocide (@katyperryshore) April 24, 2015
Other demonstrators said it was important for Turkey to recognize the genocide and that doing so would benefit people around the world.
"We also believe tremendously that this will help all genocides in the world be eradicated for all people. Had it been recognized, perhaps we wouldn't have had the Holocaust," Sophie Jihanian of Pasadena told the LA Times.
#ArmenianGenocideCentennial protest for @latimesphotos@latimes@LANow#ArmenianGenocidepic.twitter.com/2JzaTAR51d

— Patrick T. Fallon (@pfal) April 24, 2015
Meanwhile, Catholic Archbishop Jose Gomez, posted a message on Twitter under the #ArmenianGenocide hashtag in support of Armenians.
"Our brothers and sisters became #martyrs for the name of #Christ during the tragic events that happened 100 years ago."
In a separate interview with KTLA, the Turkish consulate general in Los Angeles, Raife Gulru Gezer, said the country "[does] not deny the suffering of the Armenians and we do not deny the fact that hundreds of thousands of Armenians did die during the First World War."
However, she said "genocide is a legal term" that is being used "loosely," and said the number of Armenians killed is "debatable"
You can share this story on social media: