Statue of Liberty evacuated after suspicious package reported (PHOTOS, VIDEOS)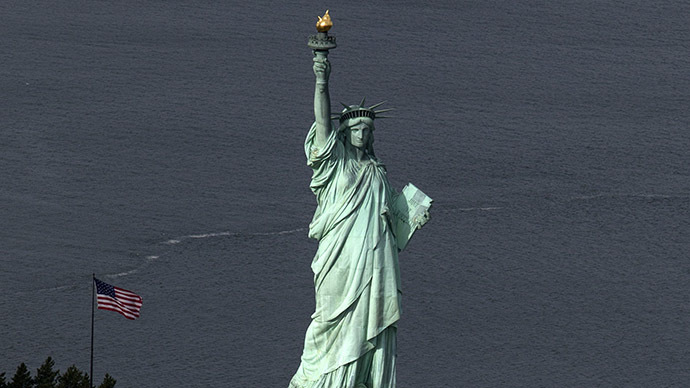 The Statue of Liberty was evacuated on Friday after authorities were alerted to a suspicious package, and bomb squads were dispatched to Liberty Island as security concerns heightened.
Visitors of the iconic New York City monument wrote on Twitter early Friday afternoon that they were being evacuated from the site and ushered onto boats due to an apparent bomb scare
— Karla Chavez (@karscool) April 24, 2015
"Please cooperate ladies and gentlemen and step quickly through the gap (in the barricades) to the rear of the vessel," a loudspeaker announcement instructed visitors to Liberty Island, according to eyewitness footage. "There is more seating available up top so please do not stop or hesitate on the gangway."
UPDATE: Statue of Liberty evacuated after report of suspicious package: sources http://t.co/5WiyBUkE44@flyingtigerspic.twitter.com/1QMfbd1Bxm

— NBC New York (@NBCNewYork) April 24, 2015
Law enforcement sources said that police received a bomb threat over the telephone and warned of a package in a locker, according to CNN. The New York Police Department told Fox News that it sent an explosives team to the island to examine the situation after receiving the report.
"United States Park Police and New York Police Department are working to confirm a report of a suspicious package - Liberty Island has been evacuated as a precaution," US Park Police said in a statement early Friday afternoon.
Back on land, long lines for #liberty refunds. pic.twitter.com/w7CAtDGHjr

— John Asbury (@johnasbury) April 24, 2015
Liberty Island is an enclave of Manhattan located in the Upper New York Bay. It is 1.58 statute miles (2.6 kilometers) southwest of Battery Park in Lower Manhattan.