'Looks delicious!' Apple Watch spoofs flood internet on launch day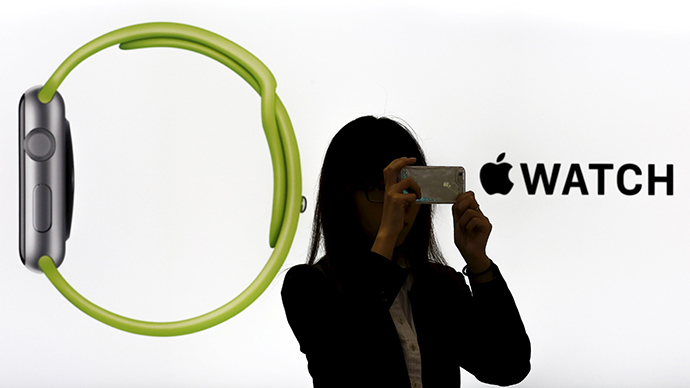 Not everyone is fortunate enough to own a new Apple Watch, but the Twittersphere has come up with cost-effective options for those who wish to remain on trend. And really, what's better than a watch you can eat when you get hungry? Take that, Apple!
Guys, my #AppleWatch came this evening. It has some bugs, but I just like to call them time flies. pic.twitter.com/bAcXUBjfRF

— Matt Penn (@mattpenndotcom) April 24, 2015
With Apple Watches ranging from US$349 to a whopping $17,000, it's understandable that not everyone can be part of the cool crowd.
But why battle long lines when you could just take a trip to your local produce department?
Yes guys, I brokedown; overlooked the cost involved & finally bought an #AppleWatch! Looks delicious & I'll enjoy it! pic.twitter.com/53QAG7ygpQ

— #TheAfricanDream (@oralofori) April 18, 2015
And the best news? That beauty of a watch probably only set him back a few cents.
But if you don't fancy walking around with an entire apple taped to your wrist, you do have options.
This lightweight version is less burdensome and even gives the illusion of a real watch. At least you can be guaranteed it will tell the time twice a day.
@MailOnline Bought a fake Apple watch but i can only get the "Pips" pic.twitter.com/xOee90YbA4

— mike martin (@mikecannytalk) April 13, 2015
If you don't have time to run to the supermarket for a juicy red apple, just use what you have at home. Perhaps you have a perfect clock sitting around unused, which resembles the same rounded corners as the Apple Watch. Use it! No one will ever know the difference.
Or maybe you'd be interested to know that you can use existing Apple technology to make your own Apple Watch - including the iPod nano. Apparently all you have to do is slap it on an existing watch.
Alright, we understand if you want an actual Apple Watch that tells time and does all the fancy things it promises. You aren't the only one.
The watch is only being sold at six upmarket boutiques across the globe on launch day, rather than at Apple stores, making its popularity difficult to judge. However, long lines could be seen on Friday.
More than 150 people were already lined up at Colette in Paris at 10am, prompting police to patrol the scene.
Technology lovers also gathered outside Maxfield in Los Angeles, hours before the store's doors were set to open. More than a dozen people lined up Thursday afternoon.
The other stores selling the product are the London and Tokyo locations of Dover Street Market, The Corner in Berlin, and 10 Corso Como in Milan.
The Apple Watch is also available to order online, but buyers can expect a wait time of four to six weeks, due to popular demand.