Standoffs in Ferguson, St. John, massive police presence
Published time: 21 Apr, 2015 19:38
Edited time: 7 Aug, 2015 09:58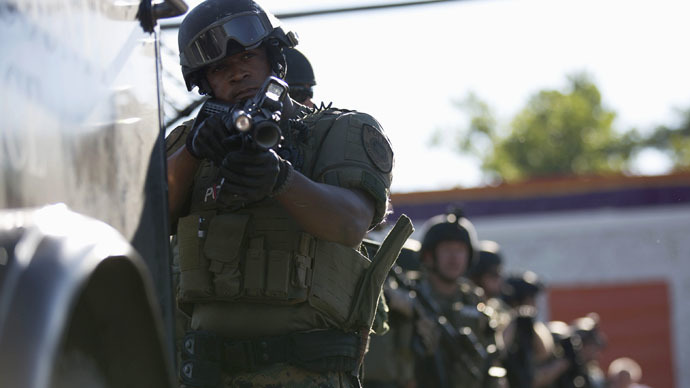 Police in Missouri were involved in two separate standoffs outside of St. Louis, including one in Ferguson where at least one person was shot. In nearby St. John, the St. Louis County SWAT team dealt with a person barricaded in a home.
According to Jeff Small, a spokesperson for the Ferguson Police Department, a call came out concerning a possible shooting around 12:30 p.m. local time.
Ferguson police said that a man shot his brother in the head. The victim was taken to the hospital and was conscious in the ambulance, according to KTVI.
DEVELOPING: Two standoffs in #Ferguson, large SWAT presence on site http://t.co/XiTSkunU7U (pic via - @joelcurrier) pic.twitter.com/49RA3Q2f0v

— RT America (@RT_America) April 21, 2015
The barricaded man, identified by his grandmother as Lorenzo Foster, was arrested without further incident after a three-hour standoff, St. Louis County Police said.
Foster, 40, had been struggling with heroin and may have been high when he shot his brother Dennis, 38, in the face at the home, where both men lived, their grandmother Loretta Foster, 78, told the St. Louis Post-Dispatch.
Police said they had been on a domestic dispute call at the address earlier Tuesday.
SWAT team in the house with me now pic.twitter.com/0aD8ONkDGs

— Search4Swag (@search4swag) April 21, 2015
During the standoff, protesters from the area made their way to the scene, due to the Ferguson Police Department presence. Ferguson was Ground Zero for anti-police brutality demonstrations in 2014 after unarmed black teen Michael Brown was shot and killed by Officer Darren Wilson, a white cop.
And here is the Tactical Support vehicle. Ferguson. pic.twitter.com/zTDyDEPEZp

— deray mckesson (@deray) April 21, 2015
The St. Charles County Police Tactical Team was called to assist the Ferguson Police Department with negotiations because the St. Louis County SWAT team was already on the scene in St. John, KTVI reported.
The SWAT team has entered the Ferguson home.
SWAT team now in the backyard pic.twitter.com/rJybF4nRYg

— Search4Swag (@search4swag) April 21, 2015
Ferguson Middle School and Johnson Wabash Elementary School were on lockdown in that town due to their proximity to the situation.
About six miles away from the standoff in Ferguson, three schools in St. John were on lockdown due to the standoff there. Ritenour Middle, Ritenour High School and Wyland Elementary were keeping students inside until the situation was resolved. Students who walk home from school remained in protective custody at their schools unless a parent or guardian could pick them up, according to KMOX.
A man called police to report that he'd stabbed his roommate and had a person tied up.
St. John Police Chief J.R. Morris said officers kept the man on the phone until a SWAT team entered the house. It turned out to be empty, and the man apparently was talking on a phone from somewhere else, the St. Louis Post-Dispatch reported.
Incident in Sycamore Hills came out as a subject wanting to talk about a stabbing and a person who was tied up. But no sign of victims.

— Jeff Bernthal (@JeffBernthal) April 21, 2015
Police found no sign of violence there but were still trying to locate the man and determine if anyone was hurt. Authorities were on the scene for over two hours, KTVI reported.
The man inside the St. John home had stabbed someone in the past and has "issues," police said. He will face face charges for filing a false police report when he's located.
Both Ferguson and St. John are in St. Louis County.