Gyrocopter incident raises new security concerns in DC
Published time: 16 Apr, 2015 20:51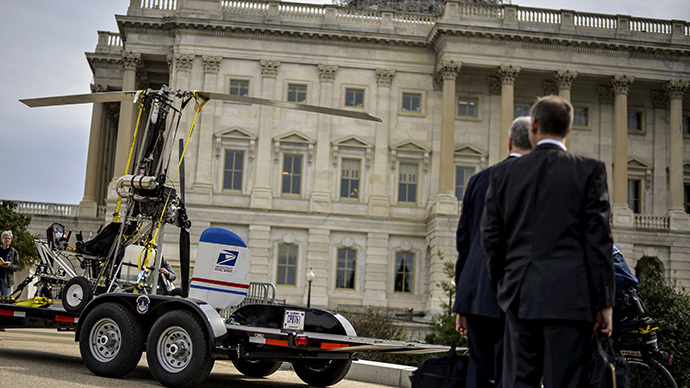 The Florida man who landed a small copter on the lawn of the United States Capitol on Wednesday is free, pending a hearing next month in Washington, DC. Meanwhile, officials are scratching their heads over new security challenges.
Dough Hughes, 61, surprised officials in DC on Wednesday afternoon when his lightweight gyrocopter touched down on the west lawn of the Capitol. He was apprehended at the scene without incident, and authorities immediately began an investigation how the single-person aircraft had managed to evade seemingly endless security precautions in place across the region.
Jeh Johnson, the secretary of the US Department of Homeland Security, said Thursday that Hughes "apparently literally flew in under the radar."
The Tampa Bay Times reported exclusively that Hughes had long been planning to conduct a stunt on the National Mall to protest campaign finance reform, and that the Secret Service had visited him two years previously but decided he did not pose a threat. Now in the wake of Wednesday's incident, authorities are weighing whether the air space around the capitol is sufficiently protected.
"I want to know all the facts before I reach an assessment of what can and should be done about gyrocopters in the future," Johnson said, according to the Associated Press.
"We are a democracy. We don't have fences around our airspace, so we've got to find the right balance between living in a free and open society and security and the protection of federal buildings," Johnson told reporters. "And so we want to stay one step ahead of every incident like this, but then again, you don't want to overreact, either.'"
"The Secret Service takes seriously the responsibility they have to protect the White House," White House press secretary Josh Earnest said on Thursday, according to The Hill. "They obviously are dealing with a very dynamic challenging security environment."
According to some in Washington, security could without a doubt be tighter. Rep. Elijah Cummings (D-Maryland), the top-ranking Democrat on the House Oversight and Government Reform Committee, spoke with Secretary Johnson on Thursday and said afterwards that he was not satisfied by Wednesday's stunt.
"I think that there's absolutely a gap, and it's a very dangerous gap, with regard to our airspace," Cummings told AP. "I don't want people to get a message that they can just land anywhere. Suppose there was a bomb or an explosive device on that air vehicle? That could have been a major catastrophe."
Hughes was formally charged on Thursday with violating restricted airspace and operating an unregistered aircraft. He's scheduled to be back in DC for court on May 8, and meanwhile will wear a tracking device while he awaits his next hearing.
On Wednesday, Hughes rode his lightweight gyrocopter from Gettysburg, Pennsylvania to Washington, DC with a sack of 535 letters addressed to each member of Congress concerning the Supreme Court's 2010 decision in Citizens United vs. Federal Election Commission.
The Tampa Bay Times called the US Capitol Police on Thursday as Hughes was expected to land, and reportedly was told by authorities that they had no knowledge of the pilot's plans.
The Federal Aviation Administration told ABC News that FAA officials had not been in touch with Hughes, and representatives with the military said they were not aware of his plans either. Much of Washington, DC is subject to air restrictions given the proximity of government buildings, including the White House and Capitol. According to the FAA, the only non-governmental flights allowed within flight restricted zone are scheduled commercial flights that go in and out of a nearby airport in Virginia.