Let our people go: Organizers demand release of 42 arrested A14 demonstrators
Published time: 16 Apr, 2015 22:05
Edited time: 17 Apr, 2015 04:30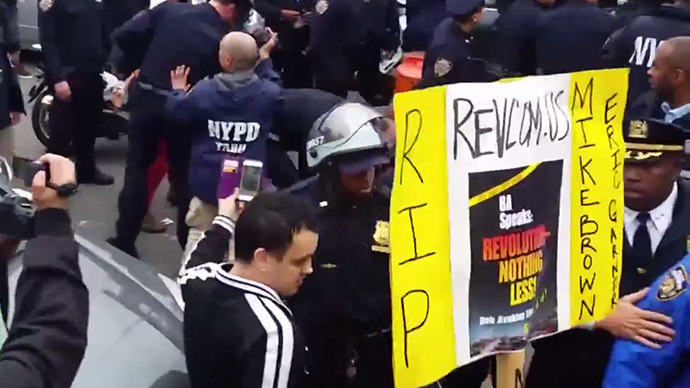 Organizers of Tuesday's nationwide protests against police killings of unarmed citizens demanded the release of 42 demonstrators arrested by the New York police on April 14. Photos and videos show officers brutally treating the protesters.
In addition to arresting numerous protesters at the Brooklyn Bridge, the NYPD detained a number of journalists, who visibly displayed their press credentials. One Brooklyn woman was seriously injured when an officer shoved her into an iron railing on Flatbush Avenue.
Police are arresting reporters with visible press passes at #ShutDownA14 (Photo by @KeeganNYC) pic.twitter.com/4G6EvfUrvY

— Noah Hurowitz (@NoahHurowitz) April 14, 2015
According to New York officials, two NYPD officers were injured during the protests. One officer hurt his knee when attempting to make an arrest, while an off-duty police sergeant was punched in the face after a verbal altercation with the demonstrators. New York City's mayor Bill DeBlasio condemned the attacks on the police, but did not comment on the injured protester or the detained journalists.
"Violence or threats of violence against the police are unacceptable and will absolutely not be tolerated," said a statement from DiBlasio's office. "Any other person who might use the right to peaceful protest as cover to initiate violence, cause mayhem or incite disorder – whether against the police, the people or property of our great City – should consider themselves on notice that New York City will not stand for it."
NYPD officer apparently pulling his gun on peaceful protesters on the Brooklyn Bridge today—in front of a school bus pic.twitter.com/e2pr9fsKVM

— New York Year Zero (@newyorkyearzero) April 15, 2015
"In New York, the mayor and media spread outrageous lies about the protest," said a statement by the Stop Mass Incarceration Network, which organized the #ShutDownA14 march. "The police brutalize and murder people every day – every day – with impunity. Then, when people take to the streets to declare to the world this must stop, they lash out to brutalize and arrest people who protest these horrors."
Read More: #ShutDownA14: Protesters against police brutality barricade Brooklyn Bridge
Some 1,500 people gathered in New York City, according to the organizers. The protest began at 2pm in Union Square, with a reading of the names of people killed by police officers. Afterwards, protesters marched down Broadway towards the NYPD headquarters in Lower Manhattan. When officers blocked their path, a portion of the marchers headed for the Brooklyn Bridge. A few protesters jumped into the traffic lanes, and were arrested.
Another incident occurred at around 5:30pm, as protesters were marching up Flatbush Avenue. "Suddenly, the police made some very violent snatch-and-grab arrests," Keegan Stephan, one of the protesters, told DNAInfo. "They were very physical with everyone." One officer shoved a woman into an iron railing, fracturing her ribs.
This is what happened to my friend Elsa. Watch the cop shove her. #ShutDownA14https://t.co/Clr6ONTUAz

— Keegan Stephan (@KeeganNYC) April 15, 2015
The injured woman was identified as Elsa Waithe, 27, a Brooklyn-based standup comedian. The NYPD said the unidentified officer is under investigation.