Fluke treatment kills many fish at Texas aquarium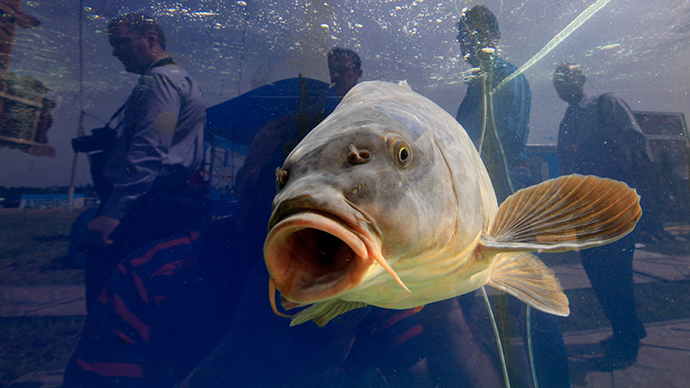 A Texas aquarium accidentally killed almost all the fish in two popular exhibits, after using a new medication intended to fight parasites detected in the tanks. Only two animals survived, despite the staff efforts to save them.
On Tuesday night, the Texas State Aquarium in Corpus Christi treated the exhibits with a medication intended to kill off parasitic flatworms detected in the tanks. The treatment had been tested on a smaller tank without any adverse effects. However, within about two hours after the chemical was administered to the Islands of Steel and Flower Gardens exhibits, the fish began to die.
Texas Aquarium Suffers Devastating Animal Losses After Medication Backfires http://t.co/LWULTEJ3ri

— Matthew Rogers (@3reef) April 16, 2015
Islands of Steel was the aquarium's largest indoor exhibit, with a 125,000-gallon tank, intended to simulate the maritime habitat around the oil platforms. The exhibit featured green moray eels, spadefish, amberjack, tarpon, grouper, nurse shark and a sand tiger shark. All but two perished.
All the animals in the smaller Lionfish exhibit also died following the treatment.
The 40,000-gallon Flower Gardens exhibit replicated a coral reef in the Gulf of Mexico, and featured divers interacting with green moray eels, porcupine fish, French angelfish, cownose stingrays, tarpon and barracudas.
The aquarium's chief marketing officer, Richard E. Glover Jr, said the facility was trying to kill a "particularly difficult parasite that had proven resistant to other treatments." He described the parasite as Trematoda, a flatworm also known as fluke. The medication was "commonly used by many other aquariums" to kill the parasites. "Nothing like this has ever happened before," he said.
Incredible accidental wordplay from the sad spox of TX aquarium where nearly all the fish died http://t.co/1vNxc5hTRfpic.twitter.com/qNijYGOiBY

— Slade Sohmer (@SladeHV) April 16, 2015
"This has been an extremely difficult night and day for the people responsible for the day-to-day care of our animals, as well as all of our staff and volunteers," Glover said in a statement. "Our husbandry staff puts their hearts and souls into the care given to all of the animals in our collection."
None of the other indoor or outdoor exhibits were affected. The aquarium has sent water samples from the affected tanks to laboratories for testing, to get a clear explanation of why the fish were adversely affected.
Messages of solidarity began to pour in on the aquarium's Facebook page, with people posting photographs of their visit to the exhibits in memory of the deceased fish. The facility is giving visitors a $5 admission discount while the affected exhibits are closed.