Marine chopper lands at San Diego beach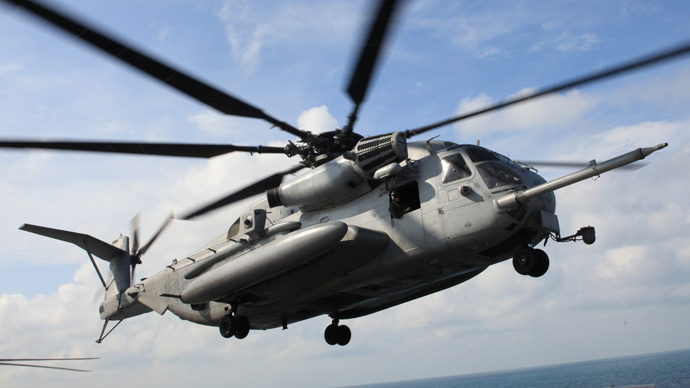 Beachgoers in a northern suburb of San Diego received a surprise visit by a US Marine helicopter, which made an emergency landing on Wednesday morning.
According to local media, a CH-53 Super Stallion helicopter landed at Solana Beach, about 24 miles north of downtown San Diego. The emergency landing was reportedly due to a fuel leak.
More on the marine helicopter that made an unexpected landing on a beach in north San Diego: http://t.co/EnrdTcPTfKpic.twitter.com/bv7WAt2AJO

— #NBC7 San Diego (@nbcsandiego) April 15, 2015
Eyewitnesses told local media that the CH-53 landed at around 11:40 local time on the Del Mar Shores beach south of Fletcher Cove.
The 3rd Marine Aircraft Wing (MAW), based at the nearby Marine Corps Air Station (MCAS) Miramar, tweeted that the helicopter, belonging to the Marine Heavy Helicopter Squadron 466, "executed a precautionary landing" after receiving a warning from the "low-pressure indicator."
Official Media Release: #3rdMAW Helicopter Makes Precautionary Landing pic.twitter.com/1gIHxfwCLK

— MCAS Miramar, 3rdMAW (@MCASMiramarCA) April 15, 2015
Marines and civilian hazardous materials disposal teams were on the scene, cleaning up the area.
#Marines working w/civilians & hazmat teams to clean the area & assess the site @KUSINews@fox5sandiego@nbcsandiegopic.twitter.com/m9Z7td9G06

— MCAS Miramar, 3rdMAW (@MCASMiramarCA) April 15, 2015
California's second-largest city, San Diego is home to a number of military installations, notably the Camp Pendleton Marine training grounds and the US Navy base at Coronado. MCAS Miramar is the former home of the Navy's "Top Gun" program, which was relocated to Nevada in 1996.
In service since 1981, the Sikorsky CH-53E Super Stallion requires 44 hours of maintenance per one hour of flying, and each flight hour costs about $20,000.