Non-lethal arrest? Arizona cop takes suspect down with cruiser (CHILLING VIDEO)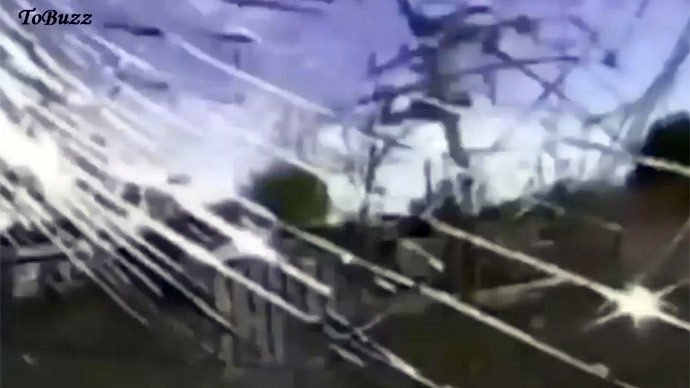 Arizona police have released a chilling video showing a police cruiser being used as a simple but effective "non-lethal weapon" to take down a suspect, who police claims has been armed with a rifle he had stolen from Walmart.
The video released by authorities shows the eye level view from a police cruiser as Mario Valencia, the alleged suspect, was walking down a street in Marana, Arizona.
"One round just went out — into the sky," an officer in the first cruiser is heard saying over the radio. "It's definitely unlocked now. He's definitely loaded."
"Stand off, the gun is loaded," the officer is heard saying just before the police vehicle speeds up, ramming Valencia.
"Jesus Christ! Man down," the first officer says.
Following the incident on February 19, the 36-year-old suspect was taken to University of Arizona Medical Center in serious condition. He was then transferred to jail where he faces 15 charges.
Marana police chief Terry Rozema claims the violent takedown by officer Michael Rapiejko behind the wheel likely saved Valencia's life, according to KOLD-TV.
The suspect's lawyer, however, disagrees.
"Everything in the video seems to point towards an obvious excessive use of force. It is miraculous that my client isn't dead," attorney Michelle Cohen-Metzger told CNN.
You can share this story on social media: