Obama sending $200mn in humanitarian aid to Iraq as ISIS battle rages
Published time: 15 Apr, 2015 03:08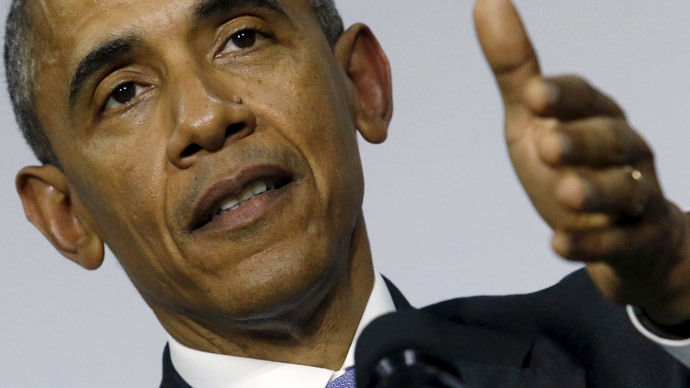 President Barack Obama announced the US would pledge an extra $200 million in humanitarian aid to Iraq after meeting with the country's prime minister and stating that women and children are being displaced in the battle against Islamic State forces.
Obama said his pledge does not include direct military assistance, but he made the announcement after meeting with Iraq's new Prime Minister, Haider al-Abadi, who was making his first visit to the White House since a winning election seven months ago.
"This is not just an abstract issue," Obama said. "There are individual families and children who have suffered."
War with Isis: Give us military aid to 'finish' militants, Iraqi PM Haider al-Abadi tells President ... http://t.co/kGrVyOhULE#ItsParto

— Lindsay (@DrWambua) April 14, 2015
More than 2.6 million Iraqis have been displaced by war since January 2014, according to the White House statement. Obama and the Iraqi leader discussed returning refugees to their homes and conferring authority back to local officials and police, since US airstrikes and Iraqi forces have rolled back Islamic State militants.
READ MORE: Iraqi army stands 'no chance' if ISIS continues intl recruitment & brainwashing
Today's aid announcement brings the total of US contribution to more than $407 million since October 1, 2013, USA Today reported.
Prime Minister Abadi told reporters that US airstrikes and training of Iraqi forces have helped fight the Islamic State (also known as ISIS or ISIL), but he is facing major budget problems and is seeking financial assistance from the US and international organizations.
"We have a common enemy in fighting terrorism, which is threatening Iraq, US lives and the entire world, " Abadi said in the Oval Office.
READ MORE: Tikrit mass grave may contain bodies of 1,700 Iraqi soldiers killed by ISIS
Abadi said it is critical for all anti-ISIS fighters to be brought under the control of the Iraqi government, an apparent reference to Iran-backed Shiite militias.
America and coalition partners have conducted more than 1,900 air strikes in Iraq, said a joint US- Iraq statement,reportedUSA Today, and those strikes have played"a critical role in halting ISIL's advance" and "liberating significant Iraqi territory once held by ISIL."
Obama and aides have made clear that the US will not be sending combat troops back to Iraq to fight ISIS, though roughly 3,000 troops have been deployed in training and advisory roles.
U.S. Soldiers, Back in Iraq, Find Security Forces in Disrepair http://t.co/jbZDxeXpTU

— Jasmin Ramsey (@JasminRamsey) April 14, 2015
That decision could have consequences, as a New York Times report found that soldiers returning to Iraq to help with training have been surprised at the state of Iraqi soldiers. After the end of the US occupation of Iraq, corruption became rife, with senior Iraqi officers buying their own commissions and paying for them with troop payrolls and supplies. The army was once composed of 280,000 active-duty personnel. It is now is as small as 50,000 soldiers.