​Double-dipping: Low wage-paying companies force taxpayers to fund benefits, says report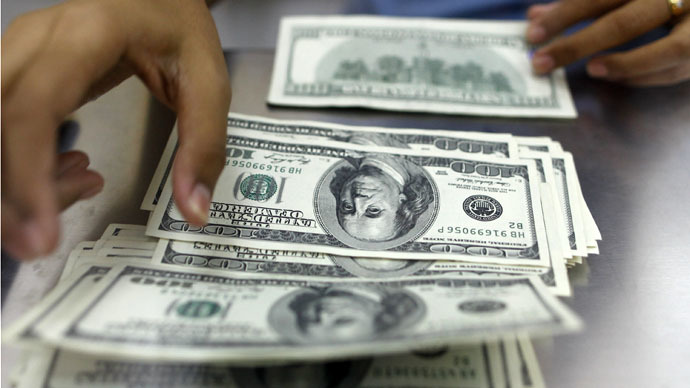 More than half of the billions of dollars spent on state and federal government assistance programs each year goes to benefit working Americans because their salaries are too low to make ends meet.
A study published out of the Center for Labor Research and Education at the University of California's Berkley campus this week says 56 percent of the $226.8 billion used annually on assistance programs between 2009 and 2011 went to working families.
"When companies pay too little for workers to provide for their families, workers rely on public assistance programs to meet their basic needs," Ken Jacobs, the chair of the labor center and co-author of report released this week, said in a statement. "This creates significant cost to the states."
The researchers say that around $153 billion in taxpayer money is spent each year, on average, aiding families that otherwise depend on earned wages.
The economists studied the use of state and federal funds on Medicaid, the Children's Health Insurance Program, Temporary Assistance for Needy Families, the Earned Income Tax Credit and the Supplemental Nutrition Assistance Program, or food stamps, and then looked to see how much of that money goes to families where at least one person has worked a minimum of 10 hours per week for half a year or longer.
READ MORE: Poorest Americans left out of federal aid despite 74 percent spending surge
The report determined that working families make up roughly 61 percent of Medicaid enrollees and 74 percent of Earned Income Tax Credit recipients, and also reaped the benefits of food stamps and TANF around one third of the time.
Nearly three-quarters of those who receive earned income tax credit are in working families, and those funds are only available to people who hold down jobs but still make either near or below the standard of living.
In explaining his group's findings, Jacobs says that consistently low wages have made it hard for families to meet the cost of living. The study determined that wages, adjusted for inflation, haven't increased for anyone in the bottom 70 percent of earners between 2003 and 2013, and that those on the bottom 10 percent are actually making less now, after adjustments, than Americans were earning 35 years earlier.
"We're subsidizing the profits of Wal-Mart," SEIU 1199 New England President David Pickus, whose union represents healthcare workers, told the Hartford Currant. "They've lived this way as if this is the way things are. It's an amazing sense of corporate welfare."
You can share this story on social media: