Reserve deputy sheriff charged with second-degree manslaughter in Oklahoma shooting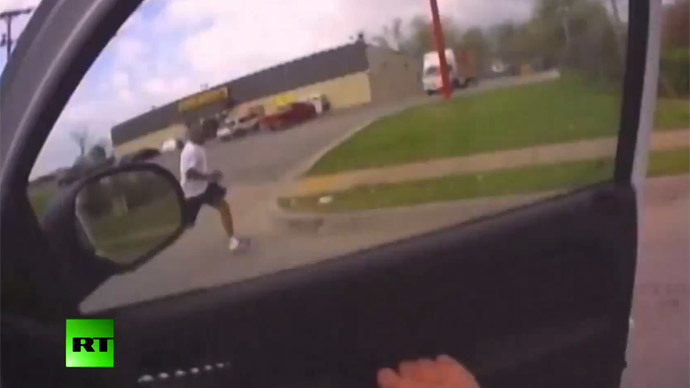 Authorities have charged a 73-year-old reserve deputy from Tulsa, Oklahoma with manslaughter after he accidentally shot and killed a man earlier this month when he fired his handgun during an altercation instead of a Taser.
The reserve deputy, Bob Bates, was charged with second-degree manslaughter involving culpable negligence, District Attorney Stephen Kunzweiler told reporters on Monday.
"Oklahoma law defines culpable negligence as 'the omission to do something which a reasonably careful person would do, or the lack of the usual ordinary care and caution in the performance of an act usually and ordinarily exercised by a person under similar circumstances and conditions,'" Kunzweiler said, according to Oklahoma's News On 6.
RT reported previously that Bates, an insurance executive-turned-deputy, witnessed a 44-year-old suspect running from a pursuing police car on April 2. Bates claims that he meant to reach for his stun gun to intervene, but instead grabbed his pistol and shot, fatally hitting an unarmed black man who was later identified as 44-year-old Eric Harris.
Video footage of the incident surfaced in recent days and was reviewed by authorities before they decided this week to pursue charges against the deputy.
"He shot me! He shot me, man. Oh, my god. I'm losing my breath," Harris is heard yelling in the video.
"F*** your breath," a cop responds.
In a statement on Monday, Harris' family said "we have to try to accept the fact that one of the last things Eric heard before he was died was 'fuck your breath!' We cannot accept this. And, we, as a society, should not accept this type of behavior from our police and sheriff's deputies who are sworn to 'protect and serve.'"
Tulsa County Sheriff's Maj. Shannon Clark told the Los Angeles Times that Bates had donated "a couple cars" to law enforcement in recent years, among other equipment, and "it's the only millionaire" deputized by the office.
Reserve Deputy Charged With Manslaughter In Eric Harris Death http://t.co/GLKeExD5sJpic.twitter.com/qWzGuZcM0F

— News On 6 (@NewsOn6) April 13, 2015
"People thought he bought his way into the reserve program, and that's not true," Clark said. "It's their way of giving back...nobody would criticize if he gave to the Red Cross."
"It is my opinion, after reviewing all the facts and circumstances of this case, [the state's excusable homicide statute] was applicable in this incident," Clark told the paper before charges were filed against Bates. "Reserve Deputy Bates did not commit a crime. Reserve Deputy Bates was a victim, a true victim, of 'slips and capture.' There's no other determination I could come to."
On Monday, the family of the deceased said in a statement, "We do believe something is deeply wrong with the Tulsa County Sheriff's Office."