​Pentagon pays author of 'May I Kiss You?' talk $10k to train US airmen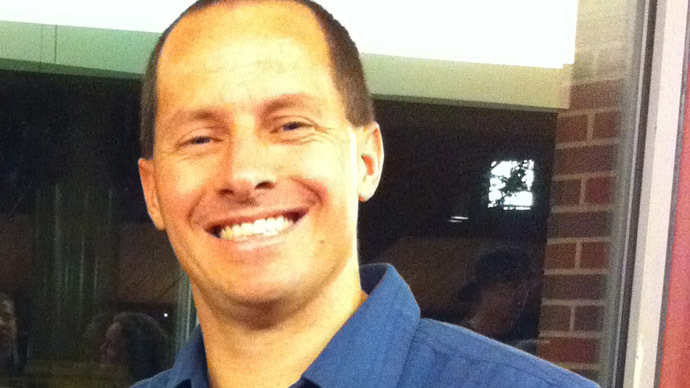 The US Air Force is employing the author of the "May I Kiss You?" talk to teach service personnel about consent and sexual assault prevention. Mike Domitrz' company, the Date Safe Project, is being paid $10,000 for three training sessions.
The Domitrz sessions last for up to 90 minutes and offer a "unique combination of humor and dramatic story telling engaging audience with role-playing and portrayal of intriguing characters," the Air Force said in a contract document. Domitrz's Date Safe Project will receive $10,000 for the contract, including $7,500 for a standard day of training and $2,500 for two additional sessions.
According to the Air Force, the May I Kiss You talk "promotes an open discussion of an often silent topic." A 2012 Pentagon survey found 38 men and 33 women in uniform are sexually assaulted every day.
"This program is needed to increase awareness of the importance of obtaining consent and of intervening when it looks like a situation could escalate into an assault."
Domitrz, 45, was encouraged to raise awareness about sexual assault after his sister was raped in 1989. According to his website; for two years, he struggled to deal with the rape and the effect it had on his life – both as the brother of a rape victim and as a male. Things changed when Domitrz started a one man show "using a powerful tool, humor." The name of his program became "Can I Kiss You?" and has since then has been presented in schools, universities, communities, international conferences and the US Military.
Domitrz gives his signature "May I Kiss You?" talk at about 50 military bases a year, including recent talks at the US Air Force Academy in Colorado Springs, Fort Bragg, Fort Meade, Fort Belvoir, and the Navy Fleet Forces stationed in Bahrain.
According to the Air Force, Domitrz's program is "one of the 'cleanest' in the area of sexual assault prevention, making it particularly applicable for use with both our Airmen and our teen dependent population."
Each "May I Kiss You?" talk covers three areas: asking before a person engages in intimacy with their partner, how to intervene if they see alcohol used to facilitate sexual assault, and how to support a survivor should they confide in an audience member that they have been affected by a sexual assault, freebeacon.com reported.
"If we fail to provide this much needed insightful education opportunity, then our effort in educating airmen about individual situational awareness and watching out for one another is extremely hindered. By not providing this education we risk the potential to negatively impact our airmen and subsequently the mission," the Air Force has warned.