Cablegate revenge? Wikileaks slams Clinton for swiping its Twitter logo design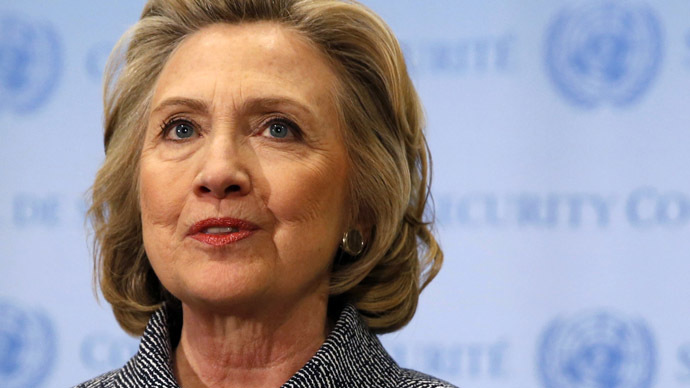 Wikileaks has blamed the Hillary Clinton presidential campaign for stealing its Twitter logo design, which depicts a horizontal red arrow pointing to the right.
The whistleblowing media organization tweeted on Sunday complaining of the similarities between its own Twitter logo design and the Clinton campaign logo.
"Hillary Clinton has stolen our innovative WikiLeaks twitter logo design," Wikileaks said.
Hillary Clinton has stolen our innovative WikiLeaks twitter logo design. Compare: @WikiLeaks vs @HillaryClintonpic.twitter.com/mifka4mXf4

— WikiLeaks (@wikileaks) April 12, 2015
Clinton's logo is an 'H' made up of blue vertical lines and a right-pointing red arrow as the horizontal connector.
On Sunday, Clinton officially declared her campaign for the Democratic Party presidential nomination. The campaign's website went live Sunday afternoon. In a launch video featured on the site, Clinton promised to be a "champion" for "everyday Americans."
Clinton was US secretary of state in 2010 when Wikileaks published 250,000 classified documents sent by State Dept. diplomats from December 1966 to February 2010. The scandal came to be known as Cablegate.
The leaked cables -- provided by whistleblower Chelsea Manning, a US Army soldier stationed in Iraq at the time -- displayed the unfiltered face of America's diplomatic machinations, in which embassies were used as a vital tool for American espionage. For instance, secret cables sent under Clinton's name instructed US diplomats to gather "biometric data," such as "fingerprints, facial images, DNA, and iris scans," of African officials. Other cables directed diplomats to spy on the likes of United Nations Secretary-General Ban Ki-moon and security-council representatives from China, Russia, France, and the UK.
Despite the damning contents splayed out for all to see, Clinton asserted that the leaks were not an indictment of Washington's malevolence.
"Let's be clear. This disclosure is not just an attack on America — it's an attack on the international community," Clinton said.
"There is nothing laudable about endangering innocent people, and there is nothing brave about sabotaging the peaceful relations between nations," she added.
READ MORE: Hillary Clinton: What to know about her recent controversies, scandals
President Barack Obama offered his support for Clinton's candidacy over the weekend.
"[Hillary Clinton] was a formidable candidate in 2008, she was a great supporter of mine in the general election, she was an outstanding secretary of state, she is my friend," Obama said at a press conference. "I think she would be an excellent president."
Yet Clinton's campaign was greeted with negativity via the Twitter hashtag #WhyImNotVotingForHillary, a vehicle mostly used by her right-wing opponents to ridicule her candidacy.
Because I'm fed up with liberals controlling my free speech #WhyImNotVotingForHillary#1Apic.twitter.com/ZvoSirUotC

— #2A Protects #1A (@2ndprotects1st) April 12, 2015
#WhyImNotVotingForHillary can't handle 2 emails (or at least expects stupid liberals to buy that crap #Grubered) pic.twitter.com/d1JK4XY9vK

— 2AFight unalienable (@2AFight) April 13, 2015
#WhyImNotVotingForHillary She ignored security in Benghazi, falsely blamed the attack on a video, lied to Congress pic.twitter.com/yrEJMTDbk6

— Bossy Brat (@JGalt9) April 13, 2015
#WhyImNotVotingForHillary see attached ==> pic.twitter.com/Wxm1bNv0hT

— IPayMyJizyaWith.357 (@SonofLiberty357) April 13, 2015
Because the office of President of the United States is not a birth right. #WhyImNotVotingForHillary

— Me (@conservtalker) April 11, 2015
Others attacked Clinton from the left.
#WhyImNotVotingForHillary previews the Republican hate against someone who's ironically the best Republican in the race.

— John Fugelsang (@JohnFugelsang) April 12, 2015
Hillary refused to talk to migrants on 3 occasions. Did talk to Goldman Sachs for $400,000 http://t.co/lm29RpScQH #WhyImNotVotingForHillary

— Zaid Jilani (@ZaidJilani) April 12, 2015
Clinton praised drought-resistant seeds, d other Monsanto products at paid speech last year http://t.co/lm29RpScQH #WhyImNotVotingForHillary

— Zaid Jilani (@ZaidJilani) April 12, 2015
#WhyImNotVotingForHillaryhttps://t.co/J1mDLujSVH

— Chris Hedges (@ChrisLynnHedges) April 12, 2015