Anonymous outs cops involved in death of NJ man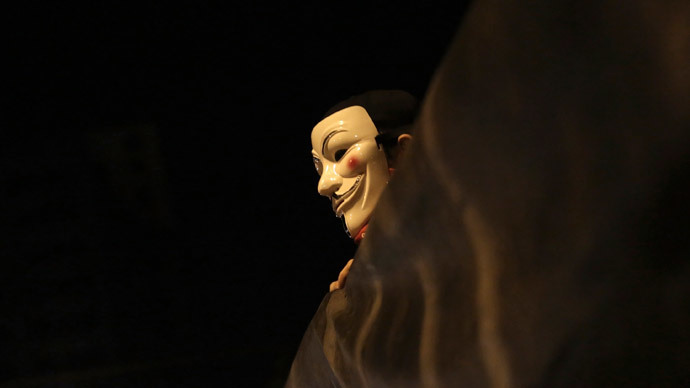 Police in Vineland, New Jersey confirmed the identities of two officers involved in the March 31 death of 32-year-old Phillip White. They also confirmed a third policeman who was involved after they were outed by the hacker collective Anonymous.
White died after being punched and kicked by the officers, and bitten multiple times by a police dog, during his arrest on March 31.
Calling the actions of the officers "absolutely grotesque," Anonymous threatened to release the names and personal information of the officers, as well as other local officials, unless the Vineland Police Department suspended the officers involved and released their names and the dash-cam footage to the public.
By Tuesday afternoon, the hacker group posted the names, addresses and phone numbers of two officers, Louis Platania and Jeffrey Travaline. Later in the day, the Vineland PD Chief Timothy Codispoti confirmed the names and added that of a third officer, Rich Janasiak.
Chief Codispoti denied the threats by Anonymous prompted the disclosure, however, he did say the names were initially withheld following a request by the prosecutor's office. He added that the Vineland Police Department was planning to release the names at the same time as the recording of the 911 call and police dispatches of the incident that resulted in White's death, which they did Tuesday afternoon.
Officers in Vineland fatal arrest named by 'Anonymous' http://t.co/OBidN6709h via @phillydotcom

— Roy McKenzie (@RoyMcKenzie) April 10, 2015
"What we're interested in is the truth," Codispoti said. "That's what we want, it's what the family wants. We want the truth of what occurred here. That includes the actions of everyone involved."
Stuart Alterman, the attorney hired by the police union to represent the officers, told the Philadelphia Inquirer that he believed the toxicology report would show that White had been on PCP and other drugs. He said the drugs, rather than police violence, were to blame for White's death.
White was the 290th person to be killed by police in America in the first 90 days of 2015, according to the website, killedbypolice.net.