3-alarm fire destroys 2 firetrucks, clouds skies over Washington, DC (PHOTO, VIDEO)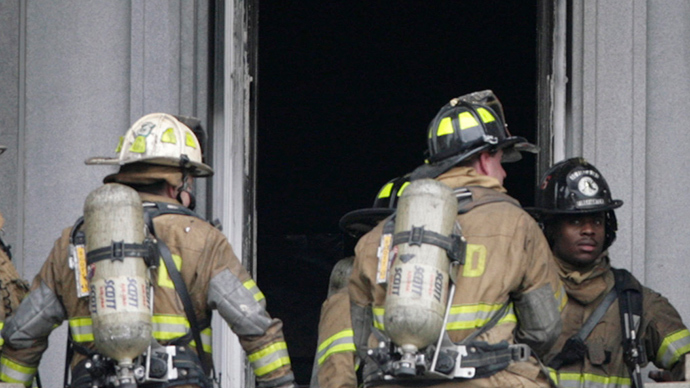 A three-alarm fire raged through a commercial building in Capitol Heights, Maryland, as firefighters battled the blaze. So much smoke was pumped into the sky that the plumes could be seen in all four quadrants of Washington, DC.
The fire broke out on the 8700 block of Ashwood Drive, according to the Prince George's County Fire Department. Officials described the building as a commercial one, though local WJLA News said it belonged to a roofing company.
On scene 2nd Alarm Roofing Company fire, Ashwood Drive Capital Heights pic.twitter.com/9Ymo7HQrRT

— Marc Bashoor (@PGFD_Chief) April 6, 2015
So far, no casualties or serious injuries have been reported, but the fire department sent in additional units to help put out the blaze. Two firetrucks were lost, officials said, and posted a video on Twitter showing one of their vehicles consumed by flames.
2 pieces of fire apparatus have been lost to this fire. No serious injuries pic.twitter.com/kzcVwjD9OA

— Mark Brady (@PGFDPIO) April 6, 2015
Several neighboring fire departments were also called in to assist. Witnesses at the scene told WJLA that they heard up to five explosions before they saw the fire.
— Mark Brady (@PGFDPIO) April 6, 2015
Huge fire down the street from my house #CapitolHeightspic.twitter.com/ADRJOAx6V8

— Davian 〽organ (@Davey_Divito) April 6, 2015
While local officials dealt with the situation, enormous smoke plumes filled the sky and could be seen at least 7 miles (11km) away in Washington, DC.
Big fire somewhere in Maryland. View from Arlington across DC. pic.twitter.com/nxxpzGjdAK

— Alex Weller (@alexbweller) April 6, 2015
The plumes of smoke were even spotted at the opening day baseball game between the Washington Nationals and New York Mets at Nationals Park.
What's on fire east of DC? View from Nats park #fire#breakingnewspic.twitter.com/kbjr5OiBm1

— Danny Criswell (@DanCriswell) April 6, 2015