​California water restrictions should cover oil companies, activists say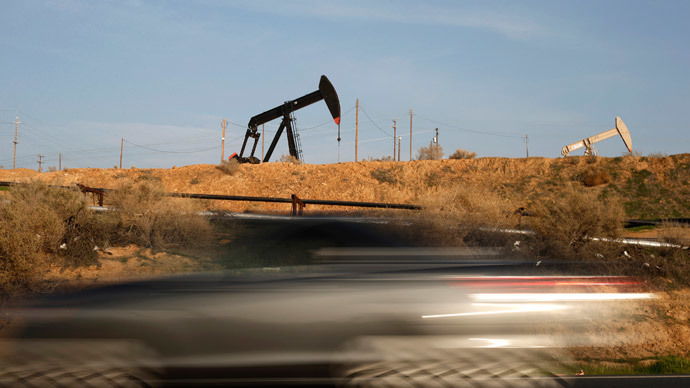 One day after California Gov. Jerry Brown issues the state's first-ever mandatory water restrictions, environmental activists are calling on officials to limit the use of water by oil companies, Reuters reported.
The executive order signed by Brown on Wednesday requires cities and towns to cut their water usage by 25 percent over the next nine months – an effort that could save up to 1.5 million acre-feet of water (the size of Lake Oroville) – but there's nothing in the mandate regarding the oil industry, which uses some 2 million gallons of water every day during the production process.
READ MORE: 'This historic drought demands unprecedented action': California issues 1st mandatory water restrictions
However, environmentalists say that by leaving the oil companies outside of the mandate's power, the state is ignoring an industry that relies heavily on water. The process of hydraulic fracturing, in particular, is especially water-intensive, as it relies in pumping highly pressurized water into the ground alongside other material in order to free up oil and gas.
"Governor Brown is forcing ordinary Californians to shoulder the burden of the drought by cutting their personal water use while giving the oil industry a continuing license to break the law and poison our water," said Zack Malitz of environmental group Credo said to Reuters.
"Fracking and toxic injection wells may not be the largest uses of water in California, but they are undoubtedly some of the stupidest."
In addition to depleting water resources, there has been concern over the waste disposal methods used by fracking companies, which deposit the waste into deep wells underground. In March, California halted drilling at 12 wastewater injection sites due to the possibility that the toxic water could seep into drinking aquifers, though officials maintain there's no evidence to suggest drinking water has been contaminated.
Oil companies, however, are adamantly against restricting its water use. Tupper Hull of the Western State Petroleum Association told Reuters that the production process actually generates more water than it does oil, and that the water produced is often used for agricultural purposes. Chevron and California Resources Corporation alone supply 68 million barrels of water to Kern County farmers annually, Hull said.
"That's more than 8,700 acre feet of water, 30 times more than all of the water used in hydraulic fracture by all oil companies per year," he added.
READ MORE: Only 1 year of water left in California, NASA scientist suggests rationing
Oil companies aren't the only ones targeted by activists, though. Protesters recently stopped by the Nestle Waters bottling plant in Sacramento to express opposition to the company's business there. It's unclear exactly how much water Nestle bottles, but the company told local Fox 40 that it used 50 million gallons in 2014.
Activists are angry over the fact that Nestle can draw the water for about as much as a local resident pays and then sell it for a profit.
"This corporate welfare giveaway is an outrage and warrants a major investigation," activist Andy Conn said to Daily Kos. "For more than five months we have requested data on Nestle water use. City Hall has not complied with our request, or given any indication that it will. Sacramentans deserve to know how their money is being spent and what they're getting for it. In this case, they're getting ripped off."
You can share this story on social media: