Snoop Dogg Instagram pic lands Texas trooper in hot water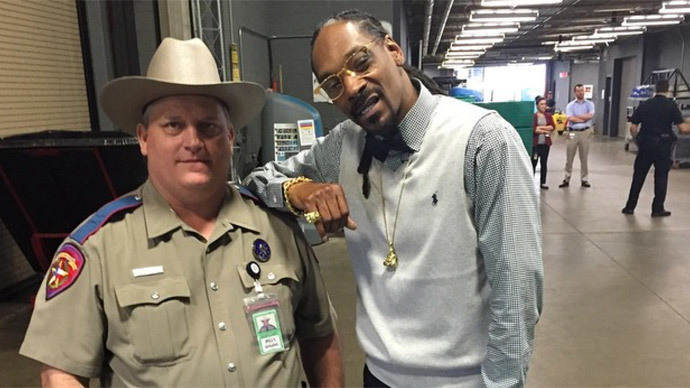 A spur-of-the-moment cell phone photo with a rap music legend has made a law enforcement officer from Texas an Instagram star...but the trooper's selfie-with-Snoop Dogg hasn't impressed everyone.
Texas Department of Public Safety Trooper Billy Spears is being ordered to undergo counseling after posing for a photograph with rapper Snoop Dogg. An attorney for the officer, however, says the action reeks of retaliation.
Spears was in uniform and providing security during the South by Southwest music festival in Austin, TX last month with Snoop Dogg, born Calvin Broadus, when he approached the officer and asked if the two could take a picture together.
The image later showed up on the rapper's Instagram account with the caption "Me n my deputy dogg," and has since been "liked" by more than 18,000 users of the photo-sharing site. Spears' superiors aren't among those that are impressed, however, and have asked him to undergo counseling.
"While working a secondary employment job, Trooper Spears took a photo with a public figure who has a well-known criminal background including numerous drug charges," reads a "counseling record" memo dated late last month. "Be mindful of social media outlets and how such photos can negatively affect the agency."
The discipline notice will now appear in Spears' personnel record, and an attorney for the trooper is calling foul.
"This is not in their policy. They're making this stuff up as they go," lawyer Ty Clevenger told the Dallas Morning News this week.
On Wednesday, Clevenger wrote the director of the Texas DPS in which he insists that "surrounding circumstances of this disciplinary action make it all the more obvious that it was an act of retaliation."
"Trooper Spears was not aware of Snoop Dogg's criminal history, nor was he aware that DPS personnel are expected to run criminal background checks of everyone who requests a picture," he wrote.
In a second letter sent to both the Travis County District Attorney's Office and the local federal prosecutor, Clevenger alleges that the complaint was only filed because Spears "rocked the boat" when he complained about a colleague last May who had supposedly detained the trooper without probable cause based on a personal beef.
"DPS claims that the counseling forms are not really discipline, therefore the employee has no right to appeal," the attorney wrote. "Yet those counseling incidents can block a trooper's chances for promotion or advancement. So it appears that DPS commanders are papering Billy's file with counseling incidents because they can't prove that he violated any law, order or policy, and they know that he will beat them with the law and the facts if he is given an opportunity to appeal."
"Billy Spears is a friend of mine, and now he is a client," Clevenger wrote on his public Facebook page on Wednesday. "The whole situation is ridiculous."
Clevenger is asking the DPS to vacate the March 24 paperwork filed against Spears and wants the Texas Public Safety Commission and the Texas Alcoholic Beverage Commission to investigate the handling of the off-duty incident last year involving the colleague, TABC Sgt. Marcus Stokke.
DPS told the Morning News on Wednesday that it "does not typically discuss or release specifics of personnel issues unless they result in disciplinary action as outlined in Government Code 411.00755 and 411.0072," adding, "Supervisors counsel and coach employees on a regular basis, and these efforts do not constitute formal discipline by the department."