NJ man dies in custody after police beat and sic dog on him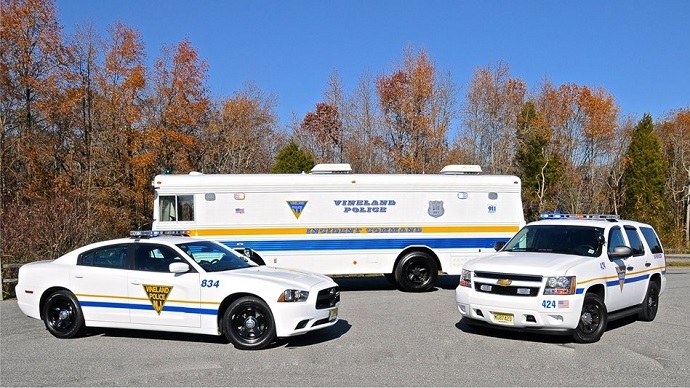 An unarmed black man is dead after being beaten by New Jersey law enforcement and bit by a police dog, according to witnesses. Police in the southern Jersey town say the suspect was reaching for an officer's gun while they were trying to arrest him.
Vineland police were responding to a call about a disorderly person on Tuesday morning. When they arrived, they encountered 32-year-old Phillip White.
An anonymous witness told KYW that White was stumbling around a neighbor's fence when an officer pulled up and asked White if he needed medical assistance. The interaction then turned into an altercation.
"He started freaking out, he started like getting crazy, yelling," the witness said. "He threw a roundhouse kick and he missed the officer and the officer obviously tackled him."
He said the officer tackled White and then the officer's partner and a police K9 subdued White.
"He didn't want to listen. So they were telling him put your hands behind your back, put your hands behind your back. They were mushing his head to the floor," he recalled.
"He lived a street life but he was a human being. Bottom line." #PhillipWhite is #WhyWeMarchhttp://t.co/6fef1JVmJzpic.twitter.com/ZdV71200LB

— Justice League NYC (@NYjusticeleague) April 1, 2015
Agustin Ayala of Ayala Towing told the Daily Journal he was driving his tow truck when he saw two police cars on the street and two officers, including a K9 unit, trying to handcuff a man.
"He was resisting," Ayala said of White.
The officers were able to handcuff White and bring him to the ground. Ayala asked them to stop because he was concerned for the man's welfare, he said.
One officer told him, "You didn't see him try to take my gun," Ayala told the Daily Journal.
But officers weren't the only ones involved in the arrest.
"They punched him, stomped him, kicked him and then they let the dog out of the car," witness Ricardo Garcia told WCAU. "The dog bit him on his face and around his body. There's no call for that. Once a man is handcuffed and unconscious, you should have stuck him in the patrol car and take him to the police station. Instead they decided to beat him right here."
A dog is heard barking on a police dispatch recording of the incident, according to the NBC affiliate.
"Subject...hyperventilating. Officers out," the dispatcher says in the recording.

"Slow all units down," an officer then says. "Subject under...tried disarming me."
One of the emergency responders told the dispatcher, "He's got my gun, right now," and "He tried to turn on me," according to scanner traffic recorded by KYW.
Memorial for Phillip White, the man who died in Vineland Police custody, on Grape Street where he died #PhillipWhitepic.twitter.com/5WKoqyMXmc

— Don E. Woods (@DonEWoods1) April 2, 2015
White became unresponsive while in an emergency transport vehicle on his way to the hospital, Cumberland County Prosecutor Jennifer Webb-McRae wrote in a statement, noting that a police officer was present during the ride. Medical personnel performed CPR on him, but he was pronounced dead at the hospital.
"Events that transpired between the time of the officer's arrival and White's transport to the hospital are under investigation by the Cumberland County Prosecutor's Office. An autopsy is pending," Webb-McRae said. "Sources have indicated that there may be video recording(s) of the events that transpired at the Grape Street location."
Both the county prosecutor and the Vineland Police Department asked witnesses with information to come forward to help with the investigation.
"As many of you have already heard, earlier today a tragedy occurred involving Officers and a citizen. Sadly, this call for service resulted in an 'in-custody, non-shooting death'," Vineland Police Chief Timothy Codispoti wrote in a statement. "Our sincere thoughts and prayers are with the family of the deceased and with the Officers involved. I ask that everyone allow time for our justice system to now investigate this matter to its truthful conclusion."
White's aunt, Valerie White, told WCAU that she is desperate for answers about what happened to her nephew.
"Why, what he was doing, I don't know," she said. "I'm trying to get answers and closure now. He lived a street life but he was a human being. Bottom line."
White's mom is too distraught to speak publicly, but she wants answers, civil rights activist Walter Hudson told KYW.
"She's a very hard working woman and things like that and it's very painful to get a phone call that your son is dead," said Hudson.
White is the 290th person to be killed by police in America in the first 90 days of 2015, according to killedbypolice.net. He was the second in-custody death in Cumberland County in March, as well as the third person to die in that area of Vineland in the last three weeks, the Daily Journal reported.
White was the father of three young children. His official cause of death has not been released.
You can share this story on social media: