ISIS singles out Virginia senator as 'crusader' and 'enemy'
Published time: 2 Apr, 2015 02:07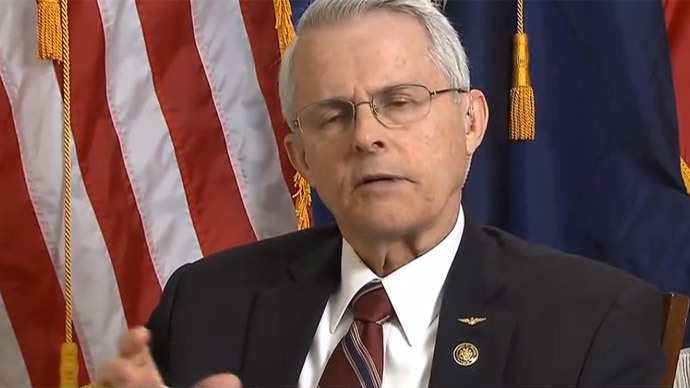 Virginia state Senator Richard Black was among the three American "crusaders" quoted in the latest issue of the Islamic State's propaganda publication Dabiq. The glossy magazine cited Black's RT interview as being "words of the enemy."
READ MORE:If Damascus falls, Europe won't be far behind – US senator
"Over the last month, a number of crusaders voiced their concerns over the power and drive of the Islamic State, its revival of Islam and the Caliphate, and its eventual expansion into Europe and the rest of the world," reads the introduction to the feature on page 57 of the magazine's eighth issue, published last week.
In addition to Senator Black, the feature also cited comments by former Pennsylvania Senator Rick Santorum and former CIA officer Gary Berntsen, with their warnings about the threat posed by ISIS framed in the context of endorsing the group's strength and appeal.
Black, who represents the 13th District in the Commonwealth of Virginia Senate, spoke with RT last month and warned that US efforts to back the rebels fighting against the government in Damascus were aiding ISIS. Dabiq quoted the comments on page 58 and described Black as "the American Crusader."
"If Damascus falls, the dreaded black and white flag of ISIS will fly over Damascus," Black told RT. "Within a period of months after the fall of Damascus, Jordan will fall and Lebanon will fall. ... I think you will automatically see a beginning of a historic push of Islam towards Europe and I think, ultimately, Europe will be conquered."
The Capitol Police called me to inform me that ISIS published my name in an article where they called me an... http://t.co/g3HWwq7jGG

— Senator Dick Black (@SenRichardBlack) April 1, 2015
"It is true, I am an enemy of ISIS," Black said in a statement Wednesday. "The quote that ISIS has selected for its magazine demonstrates that I'm right on point, that I understand their strategy clearly." He added that the magazine had carried a call to "terrorize 'crusaders' in their own homes and streets" in the previous issue.
The other two "crusader" quotes in the magazine came from Fox News shows. While calling ISIS terrorists, former CIA officer Gary Berntsen also said, "ISIS has been brilliant in its pushing out of propaganda. It has really sold itself to the hundreds of millions of people around there that are looking for a message."
WATCH @RickSantorum react to being quoted by ISIS in the latest issue of the terror group's magazine https://t.co/9YEvxefEsu

— FOX & Friends (@foxandfriends) April 1, 2015
Meanwhile, Santorum had told 'Fox and Friends' that ISIS was a caliphate and that it was "not losing ground. They are not being discredited in the eyes of the Muslim world. They will get stronger." Dabiq described him as a "Catholic crusader."
"Well the difference is ISIS actually quoted me accurately compared to the New York Times, which is sort of a remarkable comment on the state of the media today," Santorum told Fox News on Wednesday. "They put it out because it accurately describes who they are."
#Va state senator is listed as 'enemy' by ISIS, along with GOP presidential prospect http://t.co/tc615OfNSh

— Jeff E. Schapiro (@RTDSchapiro) April 1, 2015