Chicago teens arrested for child porn after group sex video posted on Twitter
Published time: 1 Apr, 2015 02:36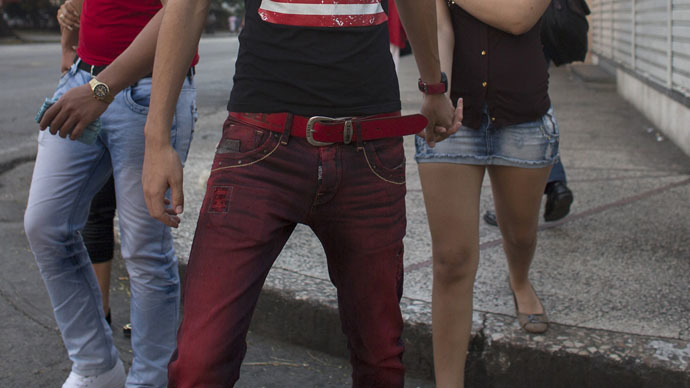 Four suburban Chicago teens between the ages of 14 and 16 were arrested for allegedly posting a group sex video of themselves on Twitter. The group, three boys and a girl, recorded the consensual sex orgy but have run afoul of child pornography laws.
Joliet police got involved when the mother of the 15-year-old girl found out about the video and reported the Twitter post to law enforcement, who seized the original recording. The teens were arrested last Friday and are remanded in juvenile custody until their court hearing on April 13. They have been charged as juveniles with child pornography.
READ MORE:National Guardsman indicted for allegedly producing child pornography
Joliet Police Chief Brian Benton said posting the 10 minute video online made it a criminal offense.
"The child pornography offense that was charged is in place for a reason, because we don't want to accept that type of behavior as a society," Benton told CBS Chicago. "It's making a strong statement, and I think it's important to do so, to send a message to others that kids shouldn't be involved in this type of behavior, and hopefully this will serve as a deterrent."
4 teens arrested on child porn charges after filming themselves in a sex tape and posting it online http://t.co/iFs5xE2Yaz#EpicFacepalm

— David Skorupski (@DalStars82) April 1, 2015
The teens face possible punishments of a reprimand or juvenile detention until they reach their 21st birthdays. The teens also face the possibility of having to register as sex offenders, according to Charles Pelkie, spokesman for the Will County state's attorney's office.
Benton said such behavior could seriously affect the teens' lives "for years to come."
"It's an incident you may not recover from," he said.
READ MORE:New York teacher arrested over child porn allegations
In a related story, police in South Florida arrested three teens last month – two boys, ages 12 and 13, and a girl aged 13 – and charged them with transmission of child pornography.
The teens set up an Instagram account and asked their 500 followers to post explicit photos. The posts included their names and personal information. Many of the followers posted cruel comments in response to the images posted.