​US support for two-state solution at 20-year low – report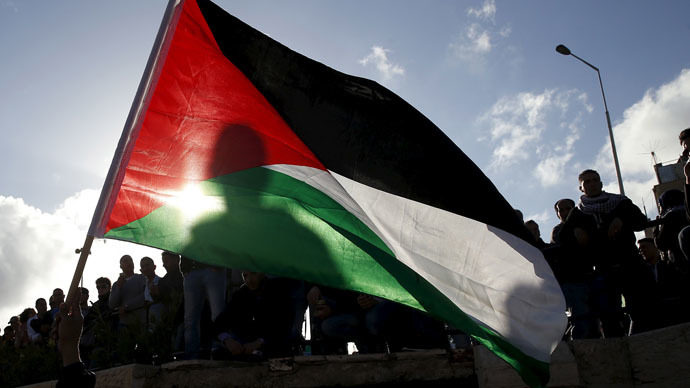 American support for a two-state solution in the Middle East is at a 20-year low, according to a new poll.
Thirty-nine percent of Americans surveyed recently said they support the creation of an independent Palestinian state on the West Bank and Gaza Strip, a Washington Post-ABC News poll released on Monday this week concluded.
But while those who in favor of an independent Palestine outnumber those opposed to the idea – 36 percent of the group quizzed, according to pollsters – the latest numbers suggest a decline with regards to the degree with which Americans support a two-state solution.
Compared with similar polls from years past, calls for an independent Palestine are diminishing: Aaron Blake, a reporter with the Post, wrote that "the idea of establishing a new Palestinian state alongside Israel in the Middle East is more divisive than at any point in the past 20 years." Indeed, Blake reported that the latest statistics show the smallest level of support since 1998, as well as the smallest margin between endorsement and opposition in at least two decades.
For first time since late 1990s, fewer than 40% of Americans support Palestinian state http://t.co/6gVU0zIWnh

— Aaron Blake (@AaronBlakeWP) March 31, 2015
Since February 2014, support of an independent Palestine has dropped by 7 percentage points, according to the Post's reporting.
In 2003, a Gallup Poll suggested that 58 percent of Americans favored a two-state solution. Support has waned in the span since, however, with that number slowly shrinking to just 51 percent in 2009, where it stayed for roughly three years.
Although a majority of Americans have supported a two-state answer since at least 2005, according to past polling conducted by the Post, ABC or Gallup, the latest 39-percent statistic has not been seen since the late 90s. Thirty-nine percent favored an independent Palestine during an October '94 poll referenced by the Post, but 13 months later that representation was down to 36 percent.
The most recent survey – taken over the telephone by 1,003 adults between March 26 and 29 – suggests that a rapid decline in support has occurred particularly during the last few years. Slightly more than half of those polled in February 2012 said they supported a two-state solution, but that number slid down to 44 percent a year later before briefly climbing up ahead of the latest dip.
READ MORE:White House pushes Palestinian statehood in face of Netanyahu win
Earlier in March, Benjamin Netanyahu, the prime minister of neighboring Israel, said he'd refuse to recognize Palestine if re-elected to office.
"Anyone who is going to establish a Palestinian state, anyone who is going to evacuate territories today, is simply giving a base for attacks to the radical Islam against Israel," he told an Israeli news site, NRG.
Among winning reelection, Netanyahu clarified: "I don't want a one-state solution. I want a sustainable, peaceful two-state solution."