Firefighters reported taken hostage in Pennsylvania firehouse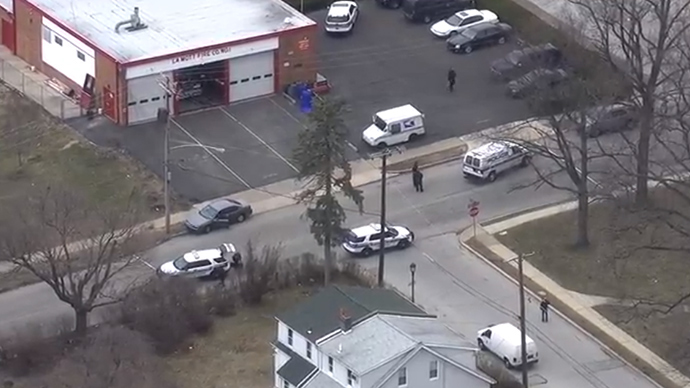 A hostage situation unfolded Tuesday morning in suburban Philadelphia, Pennsylvania after an armed man reportedly entered a local firehouse.
Local media reported that the ordeal began unfolding at around 10:40 a.m. local time in the basement of the La Mott Fire Company in southeastern PA. The firehouse is in Cheltenham Township in Montgomery County, roughly 13 miles north of Philadelphia.
#BREAKING: SkyForce10 is live over a barricade situation at a MontCo firehouse: http://t.co/5g5KBuxkqSpic.twitter.com/k0d84KpFpr

— NBC10 Philadelphia (@NBCPhiladelphia) March 31, 2015
According to a local Fox affiliate, an unnamed source said that three hostages were being held by an ex-firefighter as of 11:30 a.m. WPVI, an ABC News affiliate, said that local law enforcement officials confirmed that an armed subject was inside the fire station.
LIVE: aerial feed of Elkins Park, PA firehouse where firefighters being held hostage. Watch: http://t.co/kTcckgY1J7pic.twitter.com/4ZNbnC8xIK

— News2Share (@news_2_share) March 31, 2015
A person was seen leaving the building at around 11:30, but it was not immediately clear how they were involved in the incident. A second person was detained around 15 minutes later outside the firehouse at gunpoint, and local media reported soon after that law enforcement had taken a suspect into custody.
The La Mott Fire Company is one of five stations in Cheltenham, and close to at least two schools, a major shopping mall and several churches and apartment complexes, according to ABC.
NBC10 reported just before 12 noon that police confirmed no injuries or fatalities at the scene.