Jesse Ventura to host new heavyweight current affairs show on RT America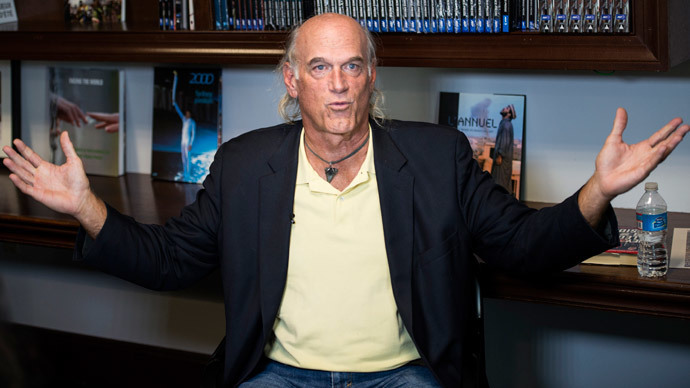 Jesse Ventura, the former professional wrestler turned governor of Minnesota, steps into the ring with politicians, journalists and opinion makers for lively debates on his new weekly current affairs program on RT America.
"Off the Grid," a talk show launched by Ventura last year on Larry King's Ora TV internet network, will join RT's Friday evening television line-up beginning this Friday, April 3.
In a statement released by RT, Ventura said the program will showcase "uncensored discussions on the critical issues facing America today."
"Independent viewpoints such as my own are few and far between," Ventura said in a statement. "I'm thrilled that my show will be aired on RT America, as well as continuing on Ora TV as my digital home."
According to an online archive of the show's past episodes, Ventura's most-viewed segments since launching last January are an interview with former presidential hopeful Ron Paul, a sit-down with actor William Shatner and a 13-minute monologue on the "life and crimes" of Dick Cheney, the former vice president of the United States.
"'Off the Grid'" will become yet another platform for independent and alternative viewpoints – something that made our channel popular with American audiences from the start," said RT editor in chief Margarita Simonyan.
Ventura, 63, has hosted nearly 200 episodes of "Off the Grid" since the show's kick-off, and prior to that starred for three seasons in the truTV series, "Conspiracy Theory with Jesse Ventura."
Previously, Ventura served as the 38th governor of Minnesota from 1999 and 2003 after a stint as mayor of Brooklyn Park, MN. His rise to fame started in the 1970s, when Ventura began performing with the World Wrestling Federation. He later starred in the 1987 sci-fi cinema classic "Predator" and has since authored more than half-dozen politically-themed books, including 2011's "American Conspiracies: Lies, Lies, and More Dirty Lies That the Government Tells Us."
In a statement, RT said that "Off the Grid" will continue to be filmed in "a secret location," but that its host may appear at the network's studios for special coverage.
After "Off the Grid" launched on Ora last year, Ventura said in an interview with RT that he had begun filming the show in Mexico, "so that the drones can't find me."
"I view the United States, today, much like East Berlin. And I'm off the grid. I've tried for 20 years to warn the country about the Democrats and Republicans, and nobody's listening," he said.
"Off the Grid" will be the third Ora TV show produced exclusively for RT America. The network currently carries episodes of Larry King Now and Politicking with Larry King, both staring the veteran interviewer and Ora TV co-founder.
Tyrel Ventura, the son of the former governor, currently co-hosts "Watching the Hawks," a talk show that began airing on RT America in March 2015.
Starting April 3, "Off the Grid" will air Fridays at 6pm EST on RT America, the exclusive worldwide broadcaster for the show. The show will continue to stream online at ora.tv and will be available online on rt.com.
You can share this story on social media: