AT&T captures users' internet browsing habits to personalize ads
Published time: 28 Mar, 2015 01:02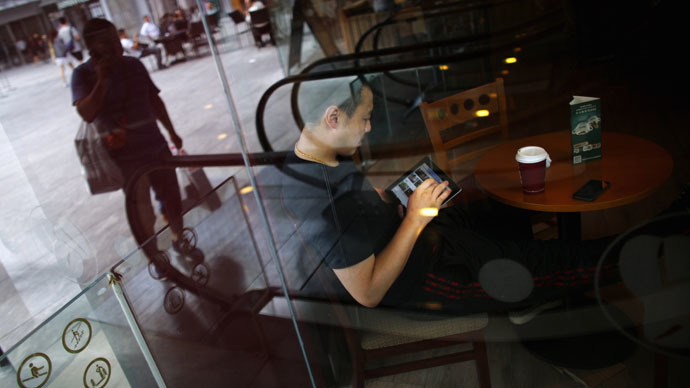 New revelations show that AT&T's gigabit internet service is rerouting user web browsing history to an in-house scanning platform, all in order to deliver personalized ads of websites visited by the user to their email boxes – and even to their homes.
The revelations about the tracking and advertising systems come as questions were raised regarding the company's ability to offer such a speedy and competitive service at a reasonable price (about $70), particularly in markets where Google Fiber is operating.
Internet users are familiar with cookies that track a user's history on specific sites, but AT&T's tracking and advertising system is open-ended, limitless, and intrusive, reported Ars Technica. Customers are oblivious to the practice unless they read the fine print on their customer agreement, which gives AT&T legal permission to examine a customer's internet traffic under its Internet Preferences program.
READ MORE: World's top tech companies ask Congress to tighten NSA spying laws
"[The program tracks] the webpages you visit, the time you spend on each, the links or ads you see and follow, and the search terms you enter," said AT&T. The company uses the information so advertisers can target a person's interests. The advertisers will pay more if a customer is likely to be interested in their products.
Customers can only opt-out of the system, once they know about it, by spending more money for services.
"You may opt-out of receiving these e-mails by choosing not to participate in the AT&T Internet Preferences and switching to GigaPower Standard pricing," said AT&T.
A stand-alone internet package is an additional $29 a month and the fee can grow to $60 a month if telephone and TV services are included. In cities where AT&T is not competing against Google Fiber, an average customer was being charged $120 month, with additional fees to opt-out of its Internet Preferences program.
READ MORE:FCC chairman proposes 'strongest open internet protections ever'
Regarding sensitive data, AT&T said that "customers' personal information is never given to that advertisers."
Still, questions are being raised about privacy laws and deceptive marketing practices.
"There are always questions about consent being willful and informed," Lee Tien, a senior staff attorney with the Electronic Frontier Foundation, told Ars Technica. "The reason legally it's important is under federal law it won't be unlawful for them to look at this stuff if you consent to them looking at it."
READ MORE: Google data collection worries Americans more than NSA
Tien said AT&T had covered it bases by disclosing the details of its data collection.
AT&T has been in the spotlight before over its practices. In October 2014, the Federal Trade Commission sued the nation's second-largest carrier for deceiving 3.5 million customers by selling them "unlimited" internet plans, which it then slowed to lower internet speeds, sometimes as much as 90 percent if a customer surfed the web too much. The company received 190,000 calls in complaint over the practice.
Yet AT&T is not the only company that engages in this practice. Google can access user data via Android and Apple iOS apps such as Google search, Gmail, Chrome, or Google Maps if a customer uses these apps while they shop. Google gets permission to do this when users opt-in to the "location services" option in their smartphone's menu.