​'Disgusted & shocked': Florida cops fired over racist texts, KKK video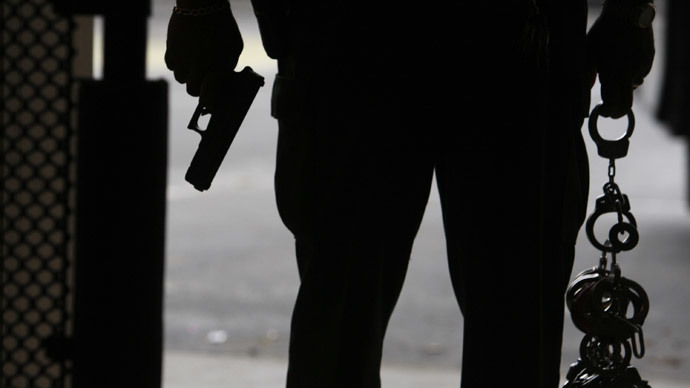 Four cops are out of a job after an internal review within the Ft. Lauderdale Police Department in Florida uncovered a slew of racially-charged messages sent between officers, and even a homemade movie that's ripe with hateful epithets.
Three officers have been fired, Ft. Lauderdale Police Chief Frank Adderley said at a news conference on Friday, and a fourth, Alex Alvarez, had already resigned in the midst of a five-month probe launched late year when his former fiancée filed a complaint with the department.
The woman, who has not been named, approached authorities in October 2014 about text messages sent between Alvarez and other officers with the Ft. Lauderdale police.
"She said she had personally seen it herself and felt it was inappropriate," Adderley said.
A subsequent review of text messages sent between the cop and his colleagues uncovered several instances in which the officers used derogatory terms.
"I had a wet dream that you two found those two n*****s in the VW and gave them the death penalty right there on the spot," reads one of the text messages in question.
READ MORE: Florida police officer suspended after slapping homeless man
Additionally, authorities uncovered a movie trailer allegedly made by Alvarez for a film called 'The Hoods' which contains references to the Ku Klux Klan (KKK), an image of United States President Barack Obama with fake gold teeth and a photograph of a dog biting a victim who appears to be black.
Adderley said that although the officers didn't engage in criminal conduct, their actions and behavior could not be ignored.
"The four officers' conduct was inexcusable, and there is zero tolerance for this type of behavior within the Fort Lauderdale Police Department," the chief said.
"We can't have people like this protecting us," Alvarez's former fiancée said when approached by a local CBS News affiliate upon the release of the department's report.
Watch: Racist texts and mock video trailer cost four #FortLauderdale cops their jobs http://t.co/A6ZZJ5y0Fopic.twitter.com/mwNbqfYh7V

— Sun Sentinel (@SunSentinel) March 21, 2015
The three officers whose termination was announced on Friday are James Wells, 30; Jason Holding, 31; and Christopher Sousa, 25. Alvarez, 22, resigned in late January. An investigation into the conduct of all four men concluded they "exchanged text messages that included derogatory comments towards Hispanics and homosexuals," among other findings.
"Based on the investigation, they felt, in their words, that it was a joke," Adderley said of the officers.
"I sent it being as a joke. Something I never shoulda said. Something I'm disappointed that I've ever, ever said," Sousa told investigators, according to Sun Sentinel journalists who read the report. "When I saw everybody else was texting, I felt, you know, maybe it – the way I could possibly fit in is saying something along those lines."
Others, however, say there's nothing funny about the officers' actions.
"I'm very disappointed, disgusted and shocked by this incident," Mayor Jack Seiler said in a statement. "The inappropriate racist behavior exhibited by those involved is unacceptable and reprehensible. It violates the trust we place in our law enforcement officers; it damages the bond we have established with our community; and it undermines the standards to which each and every City employee is held accountable."
READ MORE: Florida police threaten arrest under new 'homeless hate law'
"It's attempt was to damage our agency, and I just hope that the people in the public realize that we're not going to tolerate it, and that anyone that's engaged in this behavior, it's going to be addressed immediately," Chief Adderley added.
According to the Sun Sentinel, two sergeants, five officers and two detectives were questioned during the department's probe, in addition to the four who are no longer with the force.
Chief Adderley spoke with federal agents over the weekend, the CBS affiliate reported, and the Civil Rights Division of the US Dept. of Justice has asked for a meeting to take place in the coming days.
"We'll be meeting this week with the FBI Civil Rights Division and I'm pretty sure they are very interested in what [the officers'] activity has been since they've been on our department," Adderley said. "That's something the FBI will come back later after they make their evaluations and tell us."
It comes less than a month after a Ft. Lauderdale officer was suspended after a video surfaced of him pushing, shoving and slapping a homeless man.