Machete-wielding man attacks TSA agents at New Orleans airport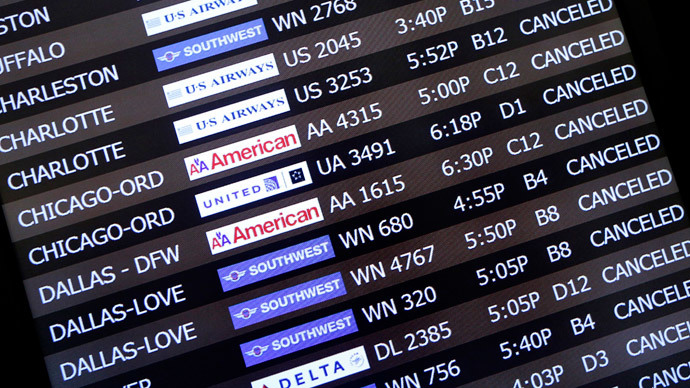 A man allegedly used a can of wasp spray against a TSA agent in New Orleans before pulling out a machete and stabbing another agent at the Louis Armstrong International Airport near New Orleans, Louisiana, according to local media.
Police are currently investigating the incident and officials said the airport has now been secured. It appears that two Transportation Security Administration (TSA) agents were injured in an attack at a security checkpoint and that the man responsible for the violence has been killed. The assailant has been transported to a hospital but is not responding, WVUE reported.
The conditions of the TSA agents have not been confirmed.
According to images and accounts from the scene posted on social media, a TSA agent was stabbed by the attacker. Photographs show a cold weapon on the ground that looks like a machete.
Insane: Machete and blood on the ground at New Orleans International Airport John Rivera via Fresco News pic.twitter.com/gbiy9x2dAi

— John H. Meyer (@beastmode) March 21, 2015
#msypic.twitter.com/x4pT87PBOa

— Rebecca Slomski (@Becky_SAP) March 21, 2015
"There was a security incident in the area near concourse B of the airport terminal The site has been secured. We will release further information as it comes available," Airport spokeswoman Michelle Wilcut said in an email to WAFB News.
Just witnessed craziest thing: dead body at #NewOrleans airport. Man stabbed 2 pple at security line shot by police pic.twitter.com/oFpOlcaTA9

— Farah Stockman (@fstockman) March 21, 2015
Jefferson Parish Sheriff Newell Normand told WVUE that a man identified as Richard White was responsible for the violence. He allegedly used a can of wasp spray on a TSA agent who confronted him at a checkpoint, then took out a machete and struck another agent.
Police then shot the man responsible in the face and the chest, he said.
An image from Twitter reportedly shows one agent being treated.
Victim of stabbing in blue being treated by medics #MSY#Shootingpic.twitter.com/C5aMTVBfFA

— WGNO (@WGNOtv) March 21, 2015
In a statement, Mayor Mitch Landrieu said the situation "is under control and the airport is secure."
"There is no threat to the public at this time, and the airport is returning to normal operations. We expect Concourse B - where the incident occurred - to fully reopen tomorrow.
Here is the scene at #MSY RT @fstockman They began taking him out on a stretcher pic.twitter.com/FmMYOaAgFk

— Whitney Richard (@bayourat) March 21, 2015
There was a security incident near concourse B of the airport The site has been secured We will release more info as it comes available

— New Orleans Airport (@NO_Airport) March 21, 2015
DETAILS TO FOLLOW