​Racist stickers raise eyebrows in gentrified Austin neighborhood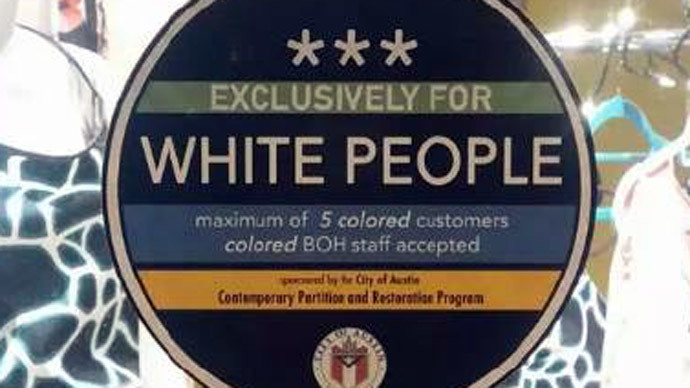 Residents of Austin, Texas are trying to get to the bottom of a wave of defacements that took the city by surprise this week when area businesses were vandalized overnight with stickers saying "exclusively for white people."
The stickers, which also contained the city's official seal and the note: "Maximum of 5 colored customers / colored BOH staff accepted," showed up on the exteriors of at least a half-dozen local businesses before dawn on Wednesday. BOH refers to "back of house," or the non-public part of an establishment.
As of Thursday, city officials were still uncertain as to who placed the stickers on area businesses.
"This is an appalling and offensive display of ignorance in our city. Austin condemns this type of hurtful behavior. Our city is a place where respect for all people is a part of our spirit and soul. We will keep it that way," said Mayor Steve Adler.
"Exclusively for white people" stickers appear on six East Austin business. http://t.co/tcE9p1Rwli#Racism#Texaspic.twitter.com/tEl3Xu8oH4

— J. David McSwane (@davidmcswane) March 18, 2015
City officials said they had nothing to do with the stickers, despite the inclusion on each one of the phrase "sponsored by the City of Austin Contemporary Partition and Restoration Program."
"This is an affront to who we are as a City and who we are as a community," Marc Ott, Austin's city manager, said in a statement. "This type of cowardly and hateful act will not be tolerated in this city."
According to a local NBC News affiliate, employees of an East Austin bakery defaced with the sticker said they fell they've been victimized by a hate crime.
"As a multiracial family with a multiracial staff, there's nothing funny about this," Olivia Guerra O'Neall, the owner of Sugar Mama's Bakeshop, told KXAN-TV. "It's sick, and its cowardly message can be read many ways, none of them positive. We are disgusted by this act of vandalism and cowardice."
In February, Texas Monthly reported that the gentrification of East Austin is "a well-told story and hot-button subject." In 2013, the Austinist called it the biggest problem facing East Austin and said it had, at least up until that been, been occurring at an "almost absurd rate."
Post by Dawnna Dukes.
April Jensen, a manager at the bakery, told the network that she wasn't sure the point of the stickers but had heard rumors that it might not have been racially motivated, but meant to make a statement about gentrification.
"Regardless of what it was about in their minds, it was the wrong action," added City Councilwoman Ora Houston, who represents the East Austin neighborhood where the stickers appeared.
Others, however, aren't going too bent out of shape.
"Sure, it's offensive, but it's also just a sticker," Sarah Goeth, the owner of Windmill Bicycles, told the NBC affiliate. "It's easy to take down. I've got a business to run."
According to an ABC News affiliate, police sources said any suspects identified will face graffiti charges. Nelson Linder, the president of the Austin NAACP, told the Statesman that the "person or people responsible should be dealt with legally" as law enforcement scours for leads.