'I just got shot': Mesa shooting victim takes selfie before seeking help
Published time: 19 Mar, 2015 20:40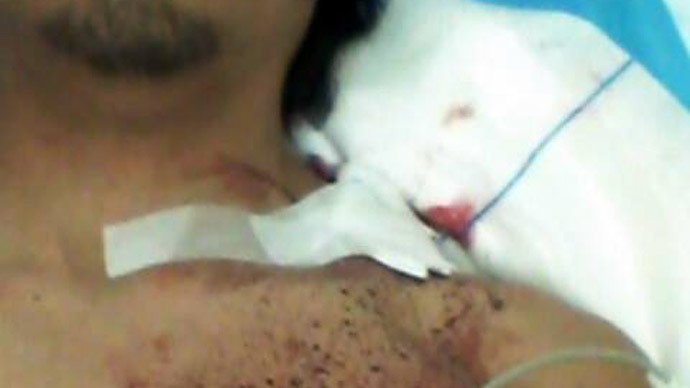 Social media has swiftly become a tool to let others know of one's safety during an emergency. And that's exactly what one victim of the Mesa, Arizona shooting used Snapchat for: After being shot, he uploaded a picture, then sought help for his wound.
Isaac Martinez is a 20-year-old student at Mesa's East Valley Institute of Technology, and was heading into Bistro 13 for a culinary class on Wednesday morning when a man "came in and demanded my keys for a getaway car," he wrote on Facebook.
The man, later identified as 41-year-old Ryan Elliot Giroux, is accused of killing one and injuring two others at the Tri-City Inn, a motel across the street from the restaurant. He then fled the scene to Bistro 13, looking for a getaway car.
Post by Isaac KillahClown Martinez.
"Of course i said no, and next was him pulling out a gun and cocking it," Martinez wrote. "Soon as i saw it i started stepping back. And yelled for everyone to step back and get down. Next thing i knew i was hitting the ground, got up as fast as i fell, and ran out the back exit."
Meanwhile, Giroux stole the chef instructor's car, a grey Honda Accord, Martinez added.
The student was struck in the shoulder.
Martinez then did what any not-grievously injured millennial would do… He took a selfie and uploaded it to Snapchat, a social media application, the Arizona Republic reported.
#MesaShooting victim, EVIT student Isaac Martinez uses social media to share his day with his friends. pic.twitter.com/53ICdTcndq

— Yihyun Jeong (@yihyun_jeong) March 19, 2015
"I just got shot…" he wrote on the photo.
After that, Martinez "noticed the cops and fire trucks down the street," he said, and ran across West Main Street to get help from the paramedics at the first shooting scene. He was then transported to the hospital, .Mesa Police Department Detective Estaban Flores told reporters Wednesday.
Post by Isaac KillahClown Martinez.
The 20-year-old student was the only one injured at that location. Giroux, a man with a criminal record and alleged connections with neo-Nazi and white supremacist groups, injured two other men at two different locations before he was caught during a nearly four-hour manhunt Wednesday afternoon.
"I have no complicated injuries and should heal fine. I had a bullet hit me from behind and go through my shoulder and out my coller [sic] area," Martinez wrote. "Any higher or lower it coulda hit a[n] artery, or shatter[ed] my shoulder blade."
"It was a miracle hit," he added.
Post by Isaac KillahClown Martinez.
Martinez still had his humor about the situation on Thursday morning.
Post by Isaac KillahClown Martinez.
His favorite quote on Facebook? "Shit happens."