Kansas tuberculosis outbreak infects 28 high school students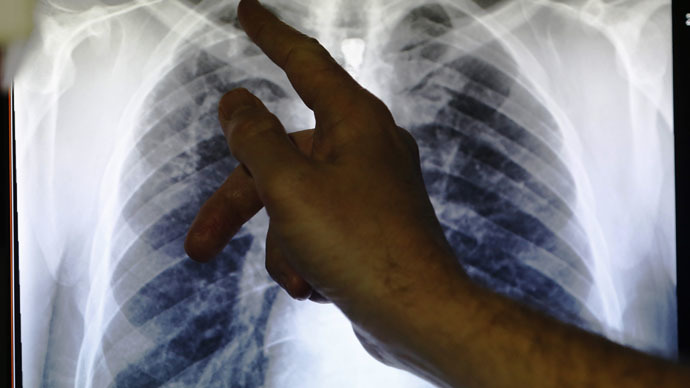 An outbreak of tuberculosis at a high school in Olathe, Kansas has infected a total of 28 students as health officials move to put safety measures in place and monitor the bacteria to prevent further exposure.
According to the Kansas City Star, the state Department of Health and Environment tested more than 300 students at Olathe Northwest High School last week after a previous student was confirmed to have been infected with tuberculosis. On Monday, March 16, the department started notifying those students who tested positive and issued a statement saying that eight percent of the school (27 students, not including the first positive test case) was confirmed to have been exposed.
READ MORE:TB or not TB? Britain to eradicate disease 'of the past'
"The number of individuals with TB infection does not exceed what we would anticipate in this setting," Lougene Marsh, director of the Johnson County Department of Health and Environment, said in a press release. "Of course, we had hoped we wouldn't find any additional TB cases, but we knew this was a possibility. That's why we took such thorough steps to test everyone who might have been in close contact with the first confirmed case of TB disease."
Health officials were quick to note that simply testing positive for the bacteria does not necessarily mean that students would develop tuberculosis disease, which is a serious and deadly illness. So far, none of the students tested have shown symptoms or signs of the disease – such as coughing, fatigue, chest pain, fever and chills, and coughing up blood – and those infected with tuberculosis are not contagious.
Tuberculosis hits 27 at Kansas City area high school. http://t.co/A83xf4hnZx@healthandcents@DrMartyFox@Ann_Marie1pic.twitter.com/JQrz4rkCNI

— sweetromance (@sweetromance) March 19, 2015
"Our biggest thing that we need to pass along to parents is TB infection is the result of being exposed to someone with TB disease, but to have TB infection, does not mean you're sick. To have TB infection, is not something you can transmit," said Phil Griffin, a representative from the Kansas Department of Health and Environment, to local channel WDAF.
People with tuberculosis disease, however, are contagious and can pass the illness onto others through the air, via their breath or cough, though even that may require hours of exposure. Since it can take up to eight weeks for symptoms of disease to show up post-infection, the Health Department has scheduled another round of blood tests for affected students on May 5.
READ MORE: No more vaccination waivers - California lawmakers
Tuberculosis is the second most deadly infectious disease in the world – behind only HIV/AIDS – according to the World Health Organization. About 1.5 million people died from the disease in 2013, and 9 million were infected. In the US alone, 9,582 cases were documented in 2013.
Last year, Kansas was home to 40 cases of tuberculosis.
Elsewhere in the state, health officials have connected a small listeria outbreak to ice cream supplied by the Blue Bell company, reported WDTV. Since January 2014, five people became infected – three of whom died – and all the cases were traced back to ice scream served at a Kansas hospital. The patients ate the ice cream there, and the listeria has been linked to a single machine at a Blue Bell factory in Texas.
Though rare, listeriosis can be deadly and causes symptoms such as fever, muscle aches, diarrhea and other gastrointestinal issues.
Blue Bell said that ice cream sold in grocery stores was not affected, USA Today reported.
You can share this story on social media: