The most outlandish moments from Rep. Aaron Schock's congressional tenure
Published time: 18 Mar, 2015 02:26
Edited time: 18 Mar, 2015 02:27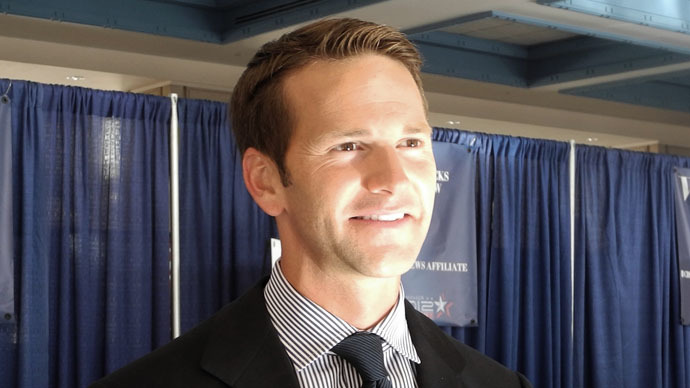 Jet-setting Congressman Aaron Schock resigned Tuesday as his big spending habits came under increased scrutiny, but perhaps more than any legislation he helped pass, the Illinois Rep. leaves an absurd and lavish lifestyle in his wake.
Since being elected to the House of Representatives in 2009, Schock was considered a promising up-and-coming voice of the Republican Party before news of his resignation hit, though he was even more well-known – online and on social media, at least – for his penchant for styling his congressional office after the television show 'Downton Abbey' and posting silly pictures on Instagram.
Since announcing his resignation, Shock has blocked or removed many of the photos he originally posted on Instagram, though a few remain spread across the internet. Here are just a few of the few spectacles Americans got to enjoy during his tenure in Washington, DC.
The 'Downton Abbey' office redesign
It may seem farfetched that a lawmaker would redecorate their office to look like a popular television show, but that's exactly what Schock was found to have done earlier this year. A Washington Post reporter first discovered the lawmaker's bold red outer office – adorned with gold sconces and black candles, no less – in February, then discovered the whole design was inspired by a PBS period drama.
Talk about shock and awe—stick a feather in @AaronShock's cup and call it decadent. pic.twitter.com/2so81KKfAm

— Captain Clarion (@citizensrock) February 6, 2015
"It's actually based off of the red room in 'Downton Abbey,'" a woman in the office told the reporter, before another woman offered to show her the inner office – also covered in red and featuring a mirror with an eagle placed on top.
Although Schock didn't want to talk about the office, follow-up reports stated the redesign was done using taxpayer money. The lawmaker ended up repaying some $40,000 to the government.
Selfies with Ariana Grande and pictures with the Pope
Schock's penchant for social media is well-known, and he regularly used Instagram to share his adventures with followers. From selfies with pop sensation Ariana Grande to photo ops with singer and musician Steve Tyler, the lawmaker was happy to show off whose company he was in.
Illinois Rep. Aaron Shock acted more like a celebrity than an elected official with duties to his constituents. pic.twitter.com/wdx6aLiLZf

— Jane Dawson (@ATriptoArete) March 17, 2015
He even had an opportunity to meet with Pope Francis, during which he showed the Pontiff another Instagram post, according to ABC News – this one taken from Schock's visit to Francis' hometown parish in Argentina.
@CapehartJ the new story about Schock needs to be a fact check on his fabrications about meeting w Pope Francis http://t.co/ZfKSpYRbJP

— Francis Xavier (@FXavier2010) February 11, 2015
A podium fit for a president?
In one of the stranger controversies of Schock's time in office, USA Today found that – as part of roughly $79,000 spent on furniture alone – the lawmaker spent more than $5,000 at a podium-maker called Mulnix Industries. In a follow-up story, Buzzfeed uncovered a $5,000 podium from the same company that looks surprisingly similar to the podium used by the President of the United States.
Congratulations to Peoria Christian High School Senior Faith Kim who I was proud to nominate - and who was just accepted to TWO Military Academies: West Point and Air Force. Unbelievable odds! Her grandfather, father and brother are all serving or have served in our armed forces. Impressive lady.
The podium, called "The Presidential," was "very likely" sold to Schock, the Mulnix general manager Phil Crane told Buzzfeed.
Schock dismissed the controversy at the time, saying the style of his podium is "similar to that used by many Members of Congress."
Showing off those abs
The new millennium has become something of a golden age for shirtless politicians, with the press going gaga for images of President Barack Obama swimming in Hawaii and Russian President Vladimir Putin riding bare-chested on a horse. Schock's case was no different, as the physically fit congressman adorned the cover of Men's Health and was declared "America's fittest congressman."
Blame the abs. RT @politico BREAKING: Illinois Rep. Aaron Schock is resigning his seat in Congress. pic.twitter.com/TIcW6JRSkv

— Matt Sullivan (@sullduggery) March 17, 2015
Traveling in luxury
Despite the pricy furniture items and interior decorating costs, Schock seems to have been primarily undone by probes into his travel expenses. According to the National Journal, the congressman accepted money from a private organization in order to pay for the travel expenses of a companion during a trip to India in 2014. The companion, a photographer, was not a staff or family member, and therefore was ineligible to receive private funds. Not only that, but Schock never disclosed that the photographer would be going on the trip to the House Ethics Committee.
Just one day before his resignation, a Politico report found that Schock billed the government to reimburse him for roughly 172,000 miles traveled on via car between 2010 and 2014. However, documents signed by him reveal the car's odometer only had some 80,000 miles logged – a vast difference that suggests the lawmaker accrued far more in reimbursements than he spent.
It's not just Rep. Aaron Schock who's living large: his staff gets perks too http://t.co/r4GIFE83c5pic.twitter.com/sTyVduBG8o

— Daily Kos (@dailykos) March 9, 2015
In the past, Schock had also been tagged for spending thousands of dollars for numerous concerts, including country music shows and a Katy Perry live performance.
In a statement on Tuesday, Schock announce his resignation.
"I do this with a heavy heart. Serving the people of the 18th District is the highest and greatest honor I have had in my life," the statement read. "I thank them for their faith in electing me and letting me represent their interests in Washington. I have given them my all over the last six years. I have traveled to all corners of the District to meet with the people I've been fortunate to be able to call my friends and neighbors."