Wall Street bonuses doubled income earned by all US minimum wage workers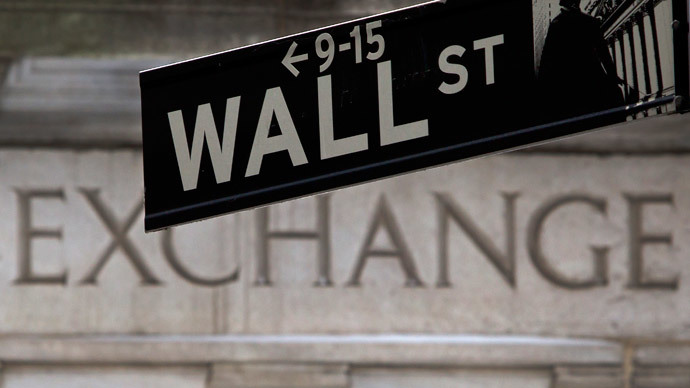 A new study claims that more than 160,000 Wall Street employees earned a total of $28.5 billion in year-end bonuses in 2014 – double the wages collected by the entirety of America's 1-million-strong workforce earning the federal minimum wage.
The study, conducted by the Institute for Policy Studies, found that the bonus pool of 167,800 Wall Street employees was 27 percent higher than in 2009, the year after the financial crisis. In 2014, the study found that bonus amounts rose three percent over 2013 figures.
Notably, one of the facts that emerged from studying the causes that led up the 2008 financial meltdown was that the bonus culture on Wall Street created an incentive for high-risk behaviors that endangered the entire economy. A key provision of the 2010 Dodd-Frank Act 2010 was to prohibit financial industry pay packages and bonuses that encourage "inappropriate risks." Regulators have still not implemented the provision.
Wall Street bonus pool bigger than total pay of all full time minimum wage workers last year. http://t.co/cXFgXREQoUpic.twitter.com/qwdV7NNIqo

— Eduardo Porter (@portereduardo) March 13, 2015
"The bonus pool is so large it would be far more than enough to lift all 2.9 million restaurant servers and bartenders, all 1.5 million home health and personal care aides, or all 2.2 million fast food preparation and serving workers up to $15 per hour," wrote Sarah Anderson, author of the study titled "Off the Deep End – The Wall Street Bonus Pool and Low-Wage Workers."
The current federal minimum wage is $7.25. Through executive order, President Barack Obama raised the minimum wage for all workers under federal contract to $10.10, but Congress has resisted calls to raise the minimum wage for all workers nationwide. Democrats have backed efforts but Republicans have said increases would burden business and stymie job creation. Meanwhile, 21 states have implemented increases in state minimum wage through legislative changes and ballot initiatives.
WALL STREET WILL NOT SPARE LOW WAGE WORKERS A DIME & here's why: $26.7 B in cash bonuses 2013! http://t.co/I6Ps1E7ujXpic.twitter.com/g263wD9UJT

— Marni Halasa (@MarniHalasa1) September 1, 2014
The study is premised on a narrow comparison between Wall Street employees' bonuses and minimum wage earners working full-time. The majority of minimum wage earners, however, don't work full time. Many work 25 hour to 31 hours a week so an employer can avoid having to pay worker health benefits.
READ MORE:Poverty-stricken neighborhoods almost triple in US
The study also argues that while bonuses might coincide with an uptick in luxury good sales, Moody Analytics found that for all the extra dollars paid out in bonuses, only about $0.39 ended up contributing to the gross domestic product (GDP). Whereas it was low-wage earners who spend nearly every dollar they make who added about $1.21 to the national economy.
"[If] bonuses in 2014 had gone to minimum wage workers instead, our GDP would have grown by about $34.5 billion, over triple the 11.1 billion boost expected from the Wall Street bonuses," said Anderson.
Wall Street bonuses would double pay for all minimum wage workers. via @sjkollmorgenhttp://t.co/WDSl7aC9XRpic.twitter.com/m2KTJO40mO

— Rebecca Leber (@rebleber) March 12, 2015
You can share this story on social media: