Texas bill would pay school kids $2k to police gender in bathrooms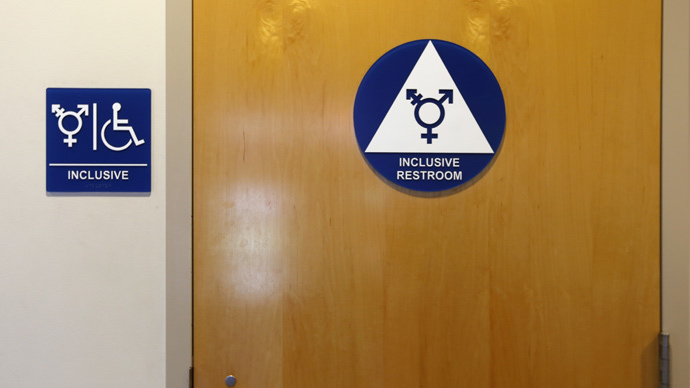 A proposed bill in Texas is raising concerns among the transgender community because it would make it a crime for a school to allow a student of one gender to use the bathroom facilities of another.
Under the bill, a student could even collect a $2,000 fine from a school for any "mental anguish," caused by sharing bathroom facilities with a student of another gender.
READ MORE: Transgender student wins $75k in school bathroom discrimination suit
Republican Gilbert Pena of Texas proposed House Bill 2801 to prohibit different gendered children from using the same bathroom, shower and locker facilities at schools. The bill makes no mention of transgender students, but the implication seems to be that a student who was born male but identifies as a female would not be allowed to use a female restroom, and vice versa.
The bill also says that schools do not have to construct, maintain or modify facilities for alternative accommodations for "certain" students if "the students assert a gender identity that is different from the student's biological sex."
Texas has introduced its 4th anti-transgender bill, putting a $2000 bounty on all trans people found in bathrooms. http://t.co/H8NLjbSh79

— Brynn Tannehill (@BrynnTannehill) March 11, 2015
However, the school will be held liable if a student of a different gender is found in a bathroom they are, by law, not supposed to be in. The legislation was filed Tuesday as an amendment to the state's Health and Safety and Education Code.
READ MORE:Transgender teen asks for her suicide to 'mean something' and 'fix society'
Pena's office did not immediately return a call by the New York Daily News about the bill.
It comes less than a month after another Republican state representative introduced a bill that would jail those whose chromosomes don't match the public restroom they might be using. Pena filed an updated version of that bill, HB 2802, on Tuesday. Both bills carve out exemptions for custodial and maintenance staff, those providing medical assistance, and parents accompanying children under the age of five or those accompanying children with special needs.
READ MORE:Army court orders military to stop calling Chelsea Manning a man
Pena has been in office for two months since beating out a House Democrat in a Democratic district. He campaigned on education and job training.
Similar legislation has been introduced in Florida and Kentucky; in the latter state, lawmakers removed a provision that would have awarded students who "discovered" a trans person in the wrong bathroom $2,500. The revised bill was passed through the Republican-controlled Senate last month.
You can share this story on social media: