'Endless war' protester rebuffed by Kerry at ISIS hearing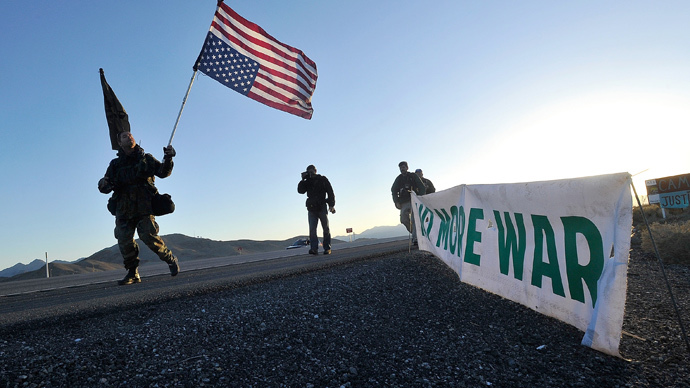 An activist protesting "another endless war" was quickly removed from a Senate hearing on Wednesday. The anti-war group he belongs to has been attending congressional hearings for years, but has been met with an increasingly hostile reception as of late.
At Wednesday's Senate Foreign Relations Committee hearing on President Barack Obama's request for an Authorization for Use for Military Force (AUMF) to be used against the Islamic State, an activist with the group Code Pink stood up and protested against "another endless war and killing of innocent people."
READ MORE: Kerry, Carter, Dempsey want war with ISIS, Senate isn't convinced
"Killing more innocent people? I wonder how our journalists who were beheaded and the pilot who was fighting for freedom who was burned alive, what they would have to say to their efforts to protect innocent people," Secretary of State John Kerry commented as the protester was removed by Capitol Police.
Pic: @ArnMenconi speaking truth to power (Secretaries Kerry and Carter) in Senate calling for an end to endless war! pic.twitter.com/eHSZ0AA9kF

— CODEPINK (@codepink) March 11, 2015
The activist was later identified as Arn Menconi, a self-described "social justice advocate" and member of Code Pink, an anti-war organization that has picketed congressional hearings for years. Created in opposition to the 2003 invasion of Iraq, the group has organized and taken part in protests around the US ever since.
Last September, Code Pink activists upstaged Kerry's presentation on the Islamic State at the very same Senate Foreign Relations Committee, holding up signs behind the secretary's back. Video footage of the hearing showed pink signs reading "No Military Solution" and "No Beheading No Bombing," as well as "Congress Stop Obama's War" and "More War = More Extremists" hovering above Kerry's head and changing hands of the activists.
READ MORE: CodePink hijacks Kerry's 'defeat ISIS' speech with anti-war slogans
"I respect the right of CodePink to protest and to use that right," Kerry said at the time, but pointed out that a group started by women opposed to war "ought to care about fighting ISIL" because it was "killing and raping and mutilating" women and denying them education.
A January 28 hearing at the Senate Armed Services Committee went less well for the group. The committee was hearing the testimonies of former State Department heads Madeleine Albright, George Shultz and Henry Kissinger, when a group of Code Pink activists approached Kissinger and began chanting that he ought to be arrested for war crimes.
Committee chairman John McCain (R-Ariz.) called the demonstration "disgraceful and outrageous and despicable." As police were removing the protesters, McCain said: "Get out of here, you low-life scum."
READ MORE: McCain boots 'low-life scum' from Senate hearing
Military operations against the Islamic State (also known as ISIL or ISIS) have been conducted under the 2001 Authorization to Use Military Force (AUMF), passed by Congress in the wake of the 9/11 attacks. President Obama has recently requested a new authorization focusing specifically on the Islamic State. Both its proposed three-year limited duration and its unlimited geographical reach have come under criticism by lawmakers.
For Code Pink, the proposed AUMF is "just another blank check for endless war." However, the group insists they are not supporting the Islamic State.
"Just because we are opposed to war does NOT mean we support ISIS," Code Pink said on Twitter.
PSA: Just because we are opposed to war does NOT mean we support ISIS. Jeez.

— CODEPINK (@codepink) March 11, 2015
You can share this story on social media: