11 US military service members presumed dead after Fla. helicopter crash
Published time: 11 Mar, 2015 15:10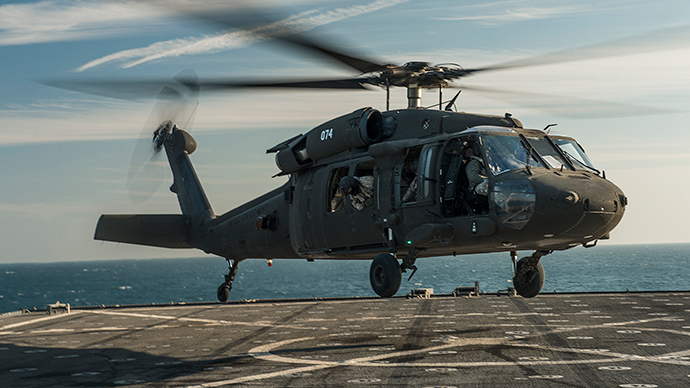 Seven Marines and four US soldiers are missing and believed to have perished following an Army helicopter crash over waters off the Florida panhandle. Pentagon officials said search crews have found human remains amid heavy fog.
The UH-60 Black Hawk helicopter that belonged to the Army National Guard was reported missing around 8:30 pm CT Tuesday. Crews first found debris from the crash at around 2 am Wednesday, according to Andy Bourland, a spokesman for Eglin Air Force Base, which is near Pensacola, Florida.
Seven marines and four soldiers presumed dead after helicopter crash on Flordia beach http://t.co/9zoPnohhEupic.twitter.com/wijRIyGppa

— CBS Evening News (@CBSEveningNews) March 11, 2015
"We have begun to see debris washing ashore on both the north and the south side of the sound," Bourland told CNN.
Coast Guard search crews found debris ashore and in the water near Okaloosa Island, according to reports, yet they are still considering it a search-and-rescue mission, said Sara Vidoni, a military spokeswoman for Eglin Air Force Base, according to AP.
#BREAKING Image of wreckage from military helicopter crash site, via @WearTV Details: http://t.co/eZnQdsdMZIpic.twitter.com/Mk3fwaJEMS

— LOCAL 15 (@LOCAL15NEWS) March 11, 2015
The aircraft is believed to have crashed just east of the Navarre Bridge that crosses the Santa Rosa Sound, according to a statement from Eglin Air Force Base.
A Pentagon official speaking on the condition of anonymity said all 11 people on the helicopter are presumed dead as search efforts continue.
Elgin officials said the Marines were from a special operations unit based at Camp Lejeune in North Carolina. The aircrew soldiers were from a National Guard unit in based in Hammond, Louisiana. Names are being withheld for now, Bourland said.
The area's atmosphere was thick with fog from Tuesday evening into Wednesday, according to the National Weather Service's Katie Moore, with visibility at 2 miles or less.
#UPDATE: @DBeasley_WPMI weather report at time of military chopper crash. Photo attached. http://t.co/eZnQdsdMZIpic.twitter.com/UcyQdTaicL

— LOCAL 15 (@LOCAL15NEWS) March 11, 2015
The section of beach between Pensacola and Destin that is considered the crash scene is part of the Elgin base owned by the US military for testing missions.
Defense official: 11 US service members presumed dead after helicopter crash in Fla.: http://t.co/dZClDBdDSFpic.twitter.com/tTzTAYV6C0

— ABC News (@ABC) March 11, 2015
The helicopter had taken off from an airport in Destin to join another aircraft in a training exercise, Bourland said.
Both aircraft were assigned to the 1-244th Assault Helicopter Battalion in Hammond, Louisiana, Eglin's statement indicated.
"Whatever the trouble was with the one aircraft, it did not involve the second helicopter that was participating in the exercise," Bourland said.
Vidoni said there was no indication of foul play or suspicious activity connected to the crash.
"Our thoughts & prayers are with them and their families as the search and rescue operation continues," says SecDef Carter

— U.S. Dept of Defense (@DeptofDefense) March 11, 2015