Diagnostic disaster: Second Ca. hospital reports superbug outbreak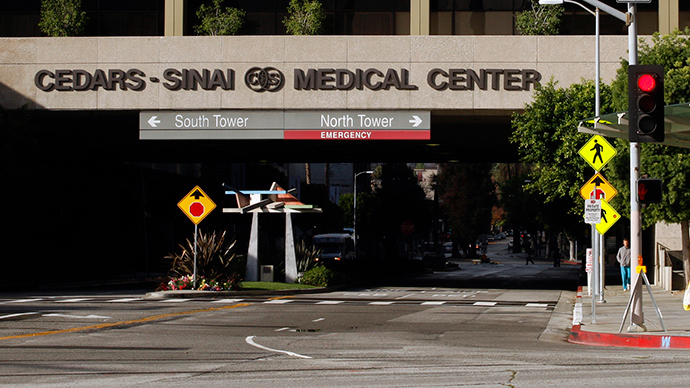 The second California hospital in two weeks has reported cases of a deadly "superbug" infection, thought to be related to a diagnostic camera device.
Cedars-Sinai Medical Center in Los Angeles confirmed at least four patients have been infected with the antibiotic resistant bacterium CRE. One patient died, but the hospital said the death was due to the pre-existing medical condition, rather than the CRE infection. Free home-testing kits have been sent to 67 other patients that may have been exposed between August and January.
CRE, or carbapenem-resistant Enterobacteriaceae, can cause potentially lethal infections of the bladder or lungs.
Two weeks ago, the Ronald Reagan Medical Center at the University of California Los Angeles (UCLA) reported seven infections with the deadly pathogen, resulting in two deaths, and 179 potential exposures. There have been no updates on test results.
READ MORE: Deadly superbug outbreak at UCLA, some 200 exposed
Both incidents are believed to be related to a medical camera known as the duodenoscope, used to diagnose pancreatic and bile-duct problems. The device is a flexible fiber-optic tube, inserted down the throat to enable a doctor to examine internal organs. However, it is very difficult to clean and disinfect properly, leaving patients potentially at risk of exposure to CRE and other "superbugs."
Centers for Disease Control and Prevention have alerted the Food and Drug Administration concerns about the possible connection between the use of duodenoscopes and "multidrug-resistant bacterial infections" in 2013, AP reported.

The latest two outbreaks have been linked to the Olympus TJF-Q180V duodenoscope, a version in use since 2010. On Wednesday, the FDA confirmed the manufacturer did not seek their clearance for the latest version, as required by law. The agency said it did not intend to withdraw the device from service, however, as that would deprive patients of a "beneficial and often life-saving procedure."
RT @givingnews: Federal lawmakers demand answers from #FDA on superbug response http://t.co/j9P7qgL4SR

— Beacon Urgent Care (@BeaconCares) March 5, 2015
The FDA confirmed it had received reports of 135 patients in the US who may have been infected via scopes between in 2013 and 2014, and that it is aware the design of the scopes makes them difficult to clean. Almost half a million endoscopic procedures are performed in the US every year.

Cedars-Sinai said it has stopped using the scope for the time being, and will resume endoscopies after consulting with government agencies and other hospitals.