​'Military pressure' may be needed to oust Syrian President – John Kerry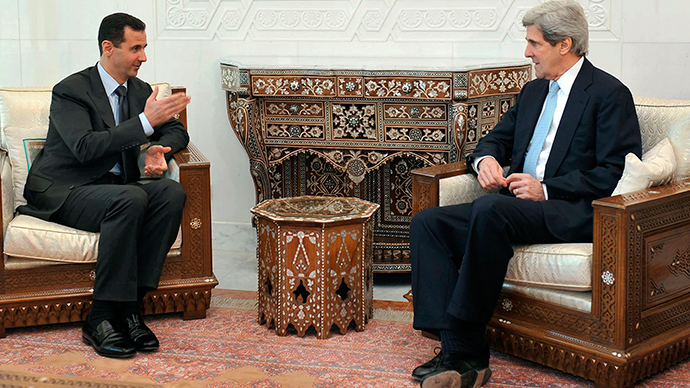 US Secretary of State John Kerry has declared that military pressure may be needed to oust Syria's President Bashar Assad. It comes as knowledge has emerged that the US, along with Turkey, has started training Syrian rebels.
"Ultimately a combination of diplomacy and pressure will be needed to bring about a political transition. Military pressure particularly may be necessary given President Assad's reluctance to negotiate seriously," Kerry said at a Thursday meeting of Gulf foreign ministers at Riyadh Air Base, according to AFP.
"He's lost any semblance of legitimacy, but we have no higher priority than disrupting and defeating Daesh and other terror networks," he added, using "Daesh" – an Arabic acronym for the Islamic State group (formerly known as ISIS/ISIL) that has seized large territories in Syria and Iraq.
READ MORE: 'Assad cannot be Syria's future' – UK & French foreign ministers
Last December, President Assad told French reporters, "let's be honest: Had Qatar not paid money to those terrorists at that time, and had Turkey not supported them logistically, and had not the West supported them politically, things would have been different. If we in Syria had problems and mistakes before the crisis, which is normal, this doesn't necessarily mean that the events had internal causes".
Syria's president criticized the actions of the US-led coalition targeting the militants in Syria. He called its air strikes "merely cosmetic" and said that "terrorism cannot be destroyed from the air." Assad added that "saying that the alliance's airstrikes are helping us is not true."
What's more, he explained that Syria was fighting against "not only gangs", but also states that support them with "billions of dollars."
Last November, Russia's Foreign Minister Sergey Lavrov commented on the issue, saying that: "Russia condemns the use of extremist groups in efforts to change the regime [in Syria]."
#Lukashevich: The "moderate opposition" groups have taken a tougher stand at the talks with Damascus, hoping for external assistance #Syria

— MFA Russia (@mfa_russia) March 5, 2015
The US-led coalition started air strikes in Syria last September as a part of a joint effort to battle the jihadist group, which had seized Syrian and Iraqi territories. Despite carrying out airstrikes in Syria, Washington has refused to work with the country's government, stating that it wants to see Bashar Assad ousted.
READ MORE: US and Turkey agree to train, equip Syrian rebels against ISIS
Turkey backs the position of the US, and in March the two NATO allies began training "moderate" Syrian rebels to battle against the Islamic State militants.
A civil uprising in Syria broke out in the spring of 2011, falling in line with Arab Spring protests and composing high-profile nationwide protests against the government of President Bashar Assad. The conflict which grew into a war has taken lives of 210,278-295,278 people, according to February estimates by the Syrian Observatory for Human Rights.
This April, Moscow is set to host a meeting between the Syrian opposition and representatives of the government.
You can share this story on social media: