NSA building damaged by multiple gunshots - reports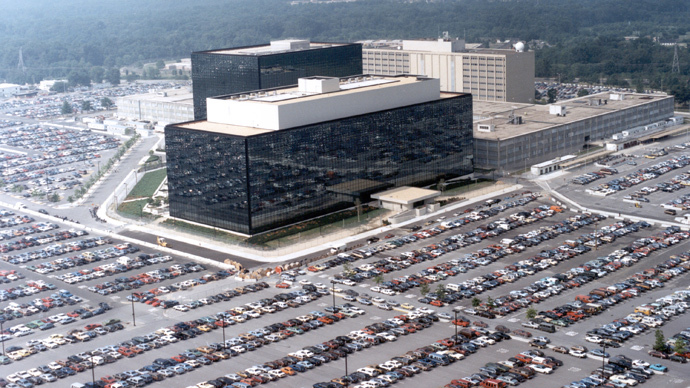 Multiple gunshots reportedly struck a National Security Agency office building in Fort Meade, Maryland, according to law enforcement. The FBI is investigating and officials are also considering whether the same gunman is behind several recent attacks.
No injuries have been reported at the scene, though the NSA told NBC Washington that one of its buildings was damaged by "what appear to be" several gunshots. Law enforcement officials are investigating the situation, but US Park Police say they don't know who may have fired the shots.
According to the Washington Post, US Park Police spokesperson Alicia Woods said the NSA "found evidence of multiple shots hitting a wall of a building."
Police are also looking into reports of several gunshots being fired along the Baltimore-Washington Parkway and Route 32, which is located near the NSA. No injuries have been reported from that incident, and officials are trying to determine if the two events are related.
While investigators have not identified a suspect, they are looking into whether the gunman responsible for Tuesday's incident near NSA headquarters is also responsible for three other shootings that have occurred in Maryland over the course of the past week, the Baltimore Sun reported.
About two hours before the incident near the NSA came to light, gunshots were reported at the Maryland Intercounty Connector, about 12 miles away from the NSA campus. Two people suffered minor injuries during this shooting, though they have been hospitalized and were not actually hit by bullets.
VIDEO. Truck hit by gunfire on ICC in Laurel. WATCH: pic.twitter.com/siBmifvvYO

— Sherri Ly (@SherriLyFOX5) March 3, 2015
"They're looking into whether these are linked together," said Lt. Kevin Ayd, a spokesman for the Maryland Transportation Authority Police, to the Sun.
According to the newspaper, surveillance footage highlights what could be a gray or blue Lincoln Town Car at multiple crime scenes, though the quality of the videos has not been good enough to pick out a license plate or identify a possible shooter. Ballistic evidence also seems to point towards multiple incidents being connected.
Since last Tuesday, shootings have been reported at a local shopping complex, a Walmart and an AMC movie theater. Two of these incidents occurred on Monday, and the Tuesday Intercounty Connector shooting makes three incidents in two days.
Outside of the two minor injuries reported Tuesday, no others have surfaced.
You can share this story on social media: