​Anonymous hacktivist deported back to US after failed asylum bid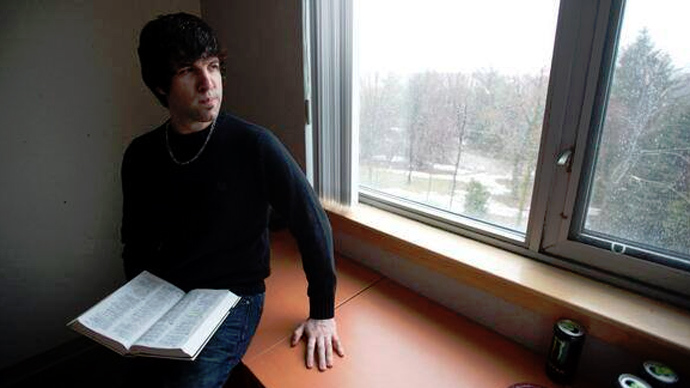 A United States military veteran who claims he was interrogated and tortured by American officials as part of an alleged investigation into online groups WikiLeaks and Anonymous has been deported from Canada to face child porn charges in the US.
Matt DeHart, 30, was moved from a prison cell in Ontario early Sunday and handed off to American officials at the US-Canada border, the National Post reported. Court documents obtained by RT confirm that DeHart fled the US for Canada in April 2013 in a failed attempt to be granted refugee status and was scheduled to be sent back to the States on or after March 1 to stand trial against charges in Tennessee.
Motion filed Feb. 24 says Matt Dehart would be taken to Tennessee this week and entered into pretrial detention https://t.co/vsXz5xqKZx

— Andrew Blake (@apblake) March 2, 2015
DeHart has faced child pornography charges in the US since 2010, and last year he was hit with another count stemming from his failure to appear at a 2013 court hearing concerning the matter. According to DeHart, however, those charges have all been filed to cover up an undercover national security investigation waged separately by US authorities concerning the hacktivist movement Anonymous and whistleblower website WikiLeaks.
A lengthy probe undertaken by National Post journalist Adrian Humphreys and published in multiple installments last year suggests there is much more to DeHart's story than child porn charges: According to those reports, DeHart was arrested in 2010 at the US-Canada border and then interrogated at length by the Federal Bureau of Investigation about a visit he had made to the Russian embassy in Washington, DC. FBI documents confirm that DeHart was indeed asked about his DC trip as a matter of national security, Humphreys reported, but two other interrogation sessions are classified and, according to DeHart, may detail the conversations he had concerning Anonymous and WikiLeaks.
BREAKING: Canada extradites alleged #WikiLeaks middle-man to US on bogus child porn charges http://t.co/mW7NMBm2q2#anonymous

— WikiLeaks (@wikileaks) March 2, 2015
DeHart "told the Post he was an early member of Anonymous, helping the hacktivists' nascent anti-Scientology campaign in 2008," Humphreys wrote last year. "He said he also ran a computer server on the Tor network, the so-called hidden Internet, used for the anonymous posting of documents. A classified FBI report about the CIA was posted on his server, he said, which he believes was being forwarded to WikiLeaks."
Soon after he was apprehended at the border, DeHart's Indiana home was raided and his computers confiscated, leading authorities to charge him first with two counts of child pornography in October 2010.
"Between on or about January 1, 2008 and on or about August 31, 2008, in the Middle District of Tennessee and elsewhere, Matthew Dehart knowingly employed, used, persuaded, included, enticed and coerced a minor to engage in sexually explicit conduct for the purpose of producing any visual depiction of such conduct, knowing or having reason to know that such visual depictions would be transported in interstate commerce," Brett Kniss, an officer with the Franklin, TN Police Department's Internet Crimes Against Children Task Force, alleged in a 2010 affidavit.
DeHart was ultimately released on bail, the Post reported, but he and his family fled the US for Canada before a trial could begin in hopes of being protected against supposed political persecution. A motion to dismiss the pornography charges filed by his then-lawyer in 2012 said the government should drop their case because DeHart "was involuntarily drugged and tortured by law enforcement officers in an effort to extract information," but the Immigration and Refugee Board of Canada said last month that there are "reasonable grounds to believe that Mr. DeHart committed offenses in the United States" and would soon be reported.
My son is back in the hands of the US Gov't again..I pray for God to protect him #freemattdehart

— Leann DeHart (@Leann02) March 1, 2015
"Our son is innocent of the charges against him in the US and is a victim of torture," his parents said in a statement last month, the Post reported.
On Sunday, Paul DeHart – Matt's father – told the Post that his son was "peaceful and in good health," albeit in the custody of American officials.
"We are concerned about Matt's safety as he transits," he said. "We said a prayer together on the phone and gave him into God's hands for protection."
Supporters who have started a social media campaign for DeHart said that appeared before a US federal magistrate Monday afternoon in Buffalo, New York, near the Canadian border and was ordered to be arraigned in Tennessee.
JUST IN: #MatDeHart appeared before a judge in Buffalo and was ordered to be transferred to TN for arraignment. #FreeMattDeHart#FreeAnons

— Free Matt Dehart (@FreeMattDehart) March 2, 2015
You can share this story on social media: