​New iOS app encrypts communications between major smart phones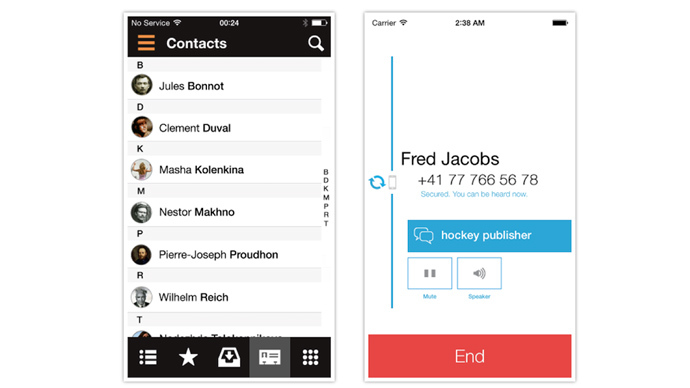 Privacy experts are hailing the release this week of an update for a smart phone messaging app that for the first time enables cross-device end-to-end encryption, securing voice calls and texts sent between iPhones and Androids like never before.
Revelations about government-sanctioned surveillance operations, not unlike the activities of the United States' National Security Agency as exposed by former contractor Edward Snowden, have given way to rise in demand for applications and technologies that help users evade snooping, state-sponsored or otherwise.
Now nearly two years after Snowden-supplied documents first revealed the extent to which the NSA eavesdrops on the electronic communications of persons the world over, an update to the Signal app for Apple iPhones and iPads – available for iOS users as of Monday this week – is being celebrated by tech experts, privacy advocates and even the national security journalists who've worked with the classified cache of Snowden files.
iPhone users, encrypted texts have come to Signal. Expect me to start bugging you to install it constantly. https://t.co/Yx1i72fLqW

— Parker Higgins (@xor) March 2, 2015
Installing the latest Signal update lets iOS users for the first time send encrypted messages to phones and tablets running TextSecure – a similar but separate crypto-communications program available only for Android devices.
Up until now, Signal users could only use the app to have encrypted communications if both parties had Apple products, namely the iPhone and iPad. By integrating Signal on iOS phones and tablets with TextSure for the Android, though, smart phone users can now encrypt communications between devices that rely on differing operating systems.
"It is now possible to send end-to-end encrypted group, text, picture and video messages between Signal on iPhone and TextSecure on Android, all without SMS and MMS fees," reads an announcement published Monday by Open Whisper Systems, the collaborative community that works with Signal.
Yet while similar security apps are plentiful in terms of what's available for both the iPhone and Androids, Micah Lee, a technologist for The Intercept, says that the this week's release is especially significant since Signal allows not just end-to-end encryption across platforms for free, but because the source code that composes the software is publically accessible and can be personally vetted.
"Unlike other text messaging products, Signal's code is open source, meaning it can be inspected by experts," Lee wrote on Monday. By also now enabling a feature known as forward secrecy, he added, "if an attacker steals your encryption key, they cannot go back and decrypt messages they may have collected in the past."
Moxie Marlinspike, the founder of Open Whisper Systems, told Lee that the goal was to "to make private communication simple," but also transparent.
"Our objective is to do new cryptographic research and development that advances the state of the art while simultaneously making it frictionless and accessible for anyone," Marlinspike said.
"The objective is to be a complete, transparent replacement for secure communications," he added in an interview with Fusion. "We want to have a texting and calling experience that's actually better than the default experience and is also private."
According to Marlinspike, interest in Signal has surged in recent months, specifically soon after the last few Snowden scoops have appeared on the website of The Intercept – the online magazine that boasts Lee as its technologist.
"Every time [Intercept parent company] First Look publishes a story, our installs go up," he told Fusion. "It's well-documented that calls and messages you send over [phone networks] are not private. Things like Signal are a way to have private communication from your phone and also a better experience. Sending media messages to your friends will be frictionless and high quality and a lot better than sending MMS."
Finally: a free, best-in-class app for secure smartphone communication. Thanks @moxie@FredericJacobs@corbett. https://t.co/Vw0DAB3MT8

— Barton Gellman (@bartongellman) March 2, 2015
Indeed, last month The Intercept revealed with its latest Snowden-assisted reporting that the NSA and its British counterpart, the GCHQ, infiltrated the computer network of Gemalto, the world's largest manufacturer of mobile phone SIM cards, supposedly stealing the encryption keys meant to secure communications sent between billions of devices.
Yet while the NSA is legally barred from eavesdropping on the telephone calls of Americans, the spy firm is far from the outlet that can pry into personal conversations. As RT reported last year, the director of the Federal Bureau of Investigation, James Comey, complained when Apple and Google announced plans to start rolling-out encryption for iOS and Android devices, respectively, supposedly making it impossible for the tech giants to decipher customer data, even when compelled to do as much in a court of law.