Snow business: Massachusetts man sells bottled blizzard for $19.99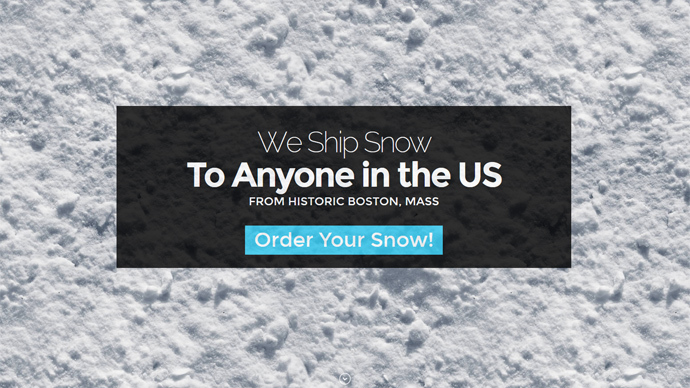 An American entrepreneur has found a way to turn Boston's record-breaking snow month into a money-making machine, shipping snow from his yard all across the US for just $19.99 a bottle.
Kyle Waring, 27, launched his venture — ShipSnowYo.com — and has already filled 133 orders, according to the website.
Packing shipments as we speak! Is this yours? pic.twitter.com/gKLHzZR8uJ

— ShipSnowYo.com! ❄️ (@shipsnowyo) February 25, 2015
Waring, from Manchester-by-the-Sea, became inspired while shoveling snow in his yard. His site promotes the experience of winter to southern states. His slogan is: "Our nightmare is your dream!"
People can order either a 16.9oz (480g) snow-filled bottle for $19.99 or a 6lb (2.7kg) box for $89, which is enough for about 10 to 15 snowballs. His latest offer consists of 10-pound packages for $119.
"I put the snow in a plastic bag, and put that in tinfoil," Waring told Boston.com. "Then I put that package in an insulated container that's an inch-and-a-half (3.8cm) thick, and ship it overnight. It's sealed tight in Omaha steaks packaging."
Is 10lbs of snow enough? pic.twitter.com/GsjymU7eNO

— ShipSnowYo.com! ❄️ (@shipsnowyo) February 25, 2015
Waring is willing to ship anywhere in the US, except for northeast states, because "we're in the business of expunging snow!" he states on his website.
READ MORE:'It's snow joke': Boston mayor warns against window jumping
February in Boston is now part of the record books as the snowiest month in history, with 45.5 inches (116cm) of snow in total, according to the National Weather Service.
Waring is hoping his venture will spill over into other times of year, with an idea to sell some of the famous New England autumn leaves.
"At this rate, it's going to be July until the snow melts," he said. "But I've thought about taking this idea and running with it for other seasonal items. Maybe I'll ship some fall foliage."