​Congress threatens DC over pot law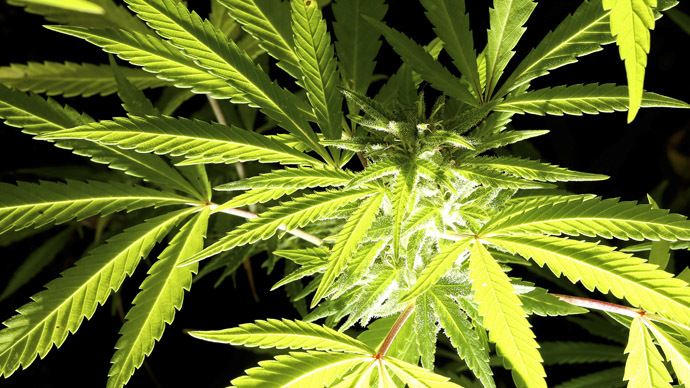 Congressional Republicans are making a last-ditch effort to stop the District of Columbia from decriminalizing private recreational use of marijuana from going into effect Thursday, threatening the mayor and her staff with fines and jail time.
In a letter [PDF] sent late Tuesday to DC's newly-inaugurated Democrat mayor, Muriel Bowser, Reps. Jason Chaffetz (R-Utah) and Mark Meadows (R-NC) warned the District government that enacting Initiative 71 would be "contrary to law." The two representatives, majority members of the House Committee on Oversight and Government Reform, also demanded the District turn over extensive documentation on any employees involved with the Initiative by March 10, with the implicit threat of fines and jail time for violating federal law.
More hypocrisy from the party of selective small government RT: House Republican calls to halt D.C. pot legalization http://t.co/YFotyD6OHj

— Matt Ropeik (@TokyoRopeik) February 25, 2015
DC officials and their backers in Congress have pointed out the December 2014 appropriations bill cited by Chaffetz and Meadows, cannot stop laws already enacted. The language in the final bill said the District could not "enact" any law to regulate or legalize marijuana, rather than "enact or carry out," pointed the District's Delegate in the House of Representatives, Eleanor Holmes-Norton.
DC pot reform law takes effect on Thur. Congress should focus on keeping DHS open instead of picking a fight w/ DC http://t.co/vo5btpZ4mx

— Eleanor H. Norton (@EleanorNorton) February 24, 2015
In a statement on Tuesday, Norton argued that the DC bill could only be blocked by a Resolution of Disapproval passed within the 30-day review period – and no such resolution was passed.
"If the Republican Congress, which can't decide how to keep open… the Department of Homeland Security, wants to pick a fight with the District over our local marijuana reform law," Norton said in a statement, "a fight is what they will get."
It was government crackdown that eventually led to Initiative 71. DC Cannabis Campaign organizer Adam Eidinger turned to activism in 2012 after DC police raided two locations of Capitol Hemp – owned by Eidinger and his business partner, Alan Amsterdam – arresting six employees and seizing $350,000 worth of merchandise. Threatened with prosecution over alleged drug violations, Eidinger and Amsterdam shut down the business.
I hope DC ignores this request as it's a plainly offensive intimidation of our leaders. @byaaroncdavis@jasoninthehouse@MayorBowser

— Adam Eidinger (@aeidinger) February 25, 2015
According to the announcement by DC Mayor Muriel Bowser earlier this week, adults aged 21 and older will be able to lawfully possess up to two ounces of marijuana and use it on private property. They will also be allowed to transfer up to one ounce of marijuana to another person, "as long as no money, goods or services are exchanged and the recipient is 21 years of age or older," and grow upward of six plants a piece.
Bowser has described the principle as "home grown, home use." Anything else remains illegal, including "selling any amount of marijuana, impaired driving and consuming any amount of marijuana in public."
READ MORE: Alaska legalizes recreational marijuana, DC to follow suit
You can share this story on social media: